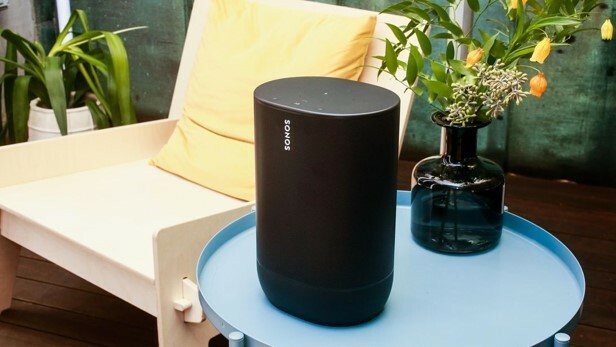 Updated: 05/15/20 (see Note Below)
The New Sonos Move and Sonos One SL continue the Sonos tradition of cutting edge technology and innovation. The additions further Sonos commitment to bring listeners the enjoyment of brilliant sound anywhere. The chart below reveals how the Sonos Move and Sonos One SL compare to existing Sonos speakers and allow you to make an informed buying decision.

The chart is just a general overview of each Sonos speaker. The proof is in the listening. To that point the Sonos Move and Sonos One/SL in the chart both state to have a single tweeter and mid-woofer. While that's true, the technology advanced in the Move is different than that found in the One/SL.

The tweeter in the Move is downward-firing to create a crisp, clear high-frequency response that disperses evenly for an ultra-wide soundscape. The mid-woofer is integrated into the cabinet to ensure faithful playback of mid-range vocal frequencies plus deep, rich bass. The Move when on Wi-Fi continually tunes itself via Trueplay; as you might be inclined to move it around in a space.

Although not officially claimed by Sonos the above mentioned differences are why I categorize the Move as a mid-range speaker versus the Sonos One/SL (officially claimed by Sonos) as a brilliant sounding compact speaker.

Sonos speaker Quick Links below chart. Feel free to post your comments. Enjoy!


* The One SL omits the LED microphone icon on top; as it has no onboard mics (see chart).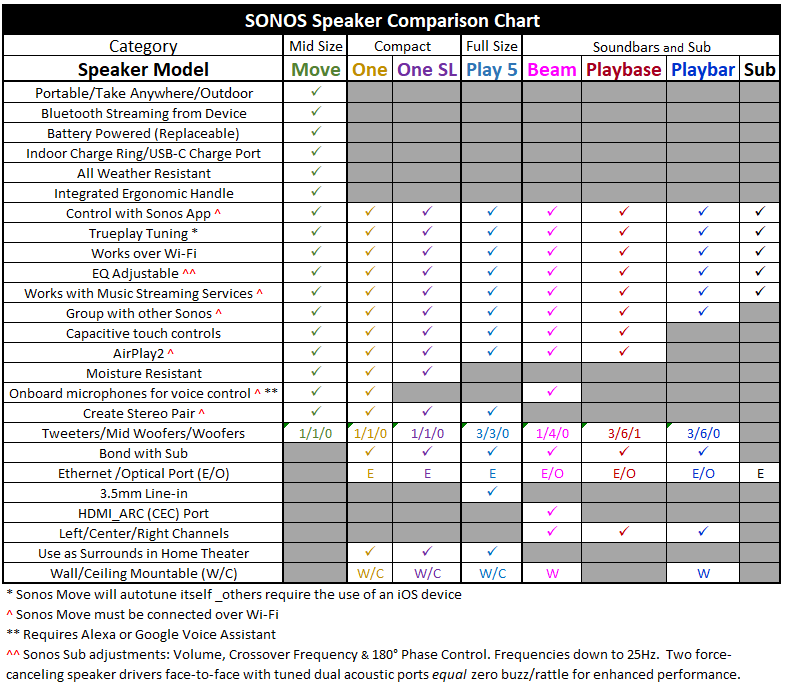 Sonos Speaker Quick Links:
Move / One / One SL / Play 5 / Beam / Playbase / Playbar / Sub
NOTE:
Information regarding the Sonos Five; the successor to the Play: 5, and how it differs can be found in FAQ's 
information that includes the Sonos Arc can be found here.