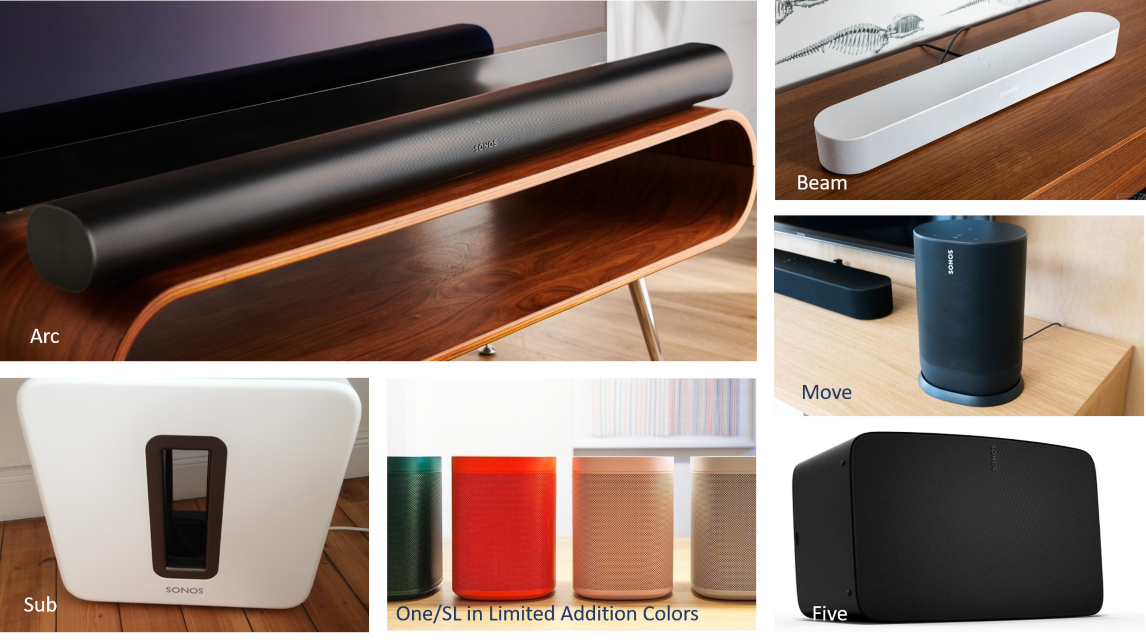 Updated: 02/14/21 (see Notes below for additional information)
This chart has been adjusted to showcase those speakers shown in the picture above which are current in the Sonos catalogue. 
The Sonos Arc is the newest addition to the family of Sonos speakers. It brings Dolby Atmos sound to the Sonos Home Theater listening experience. Although not listed in this chart click the link under Notes to view a detail of it compared to other Sonos.
The Sonos Five with subtle cosmetic changes has replaced the Play 5.
The Sonos Sub has been upgraded to a 3rd generation with the addition of an infinity button for setup and a few internal upgrades.  In addition to the above Sonos has listened to it's audience and incorporated in the S2 software the ability to add two subs for increased low-end performance.  Home Theater enthusiasts will find this feature a welcome addition.  
The Playbar and Playbase are included only for reference; as they are discontinued, but still may be available via 3rd party resellers. 
The Sonos Move and Sonos One/SL in the chart both state to have a single tweeter and mid-woofer. While that's true, the technology advanced in the Move is different than that found in the One/SL.
The tweeter in the Move is downward-firing to create a crisp, clear high-frequency response that disperses evenly for an ultra-wide soundscape. The mid-woofer is integrated into the cabinet to ensure faithful playback of mid-range vocal frequencies plus deep, rich bass. The Move when on Wi-Fi continually tunes itself via Trueplay; as you might be inclined to move it around in a space.
Disclaimer
Although not officially claimed by Sonos the above differences (Move vs One/SL) are why I categorize the Move as a mid-range speaker versus the Sonos One/SL (officially claimed by Sonos) as a brilliant sounding compact speaker.
This chart is just a general overview of each Sonos speaker. The references made for the Play 5 and Sub are overall still valid for their replacements; even though the column headers do not reflect the revised branding. That and given that I could not locate the original chart and I'm too lazy to create a new one
 .


* The One SL omits the LED microphone icon on top; as it has no onboard mics (see chart).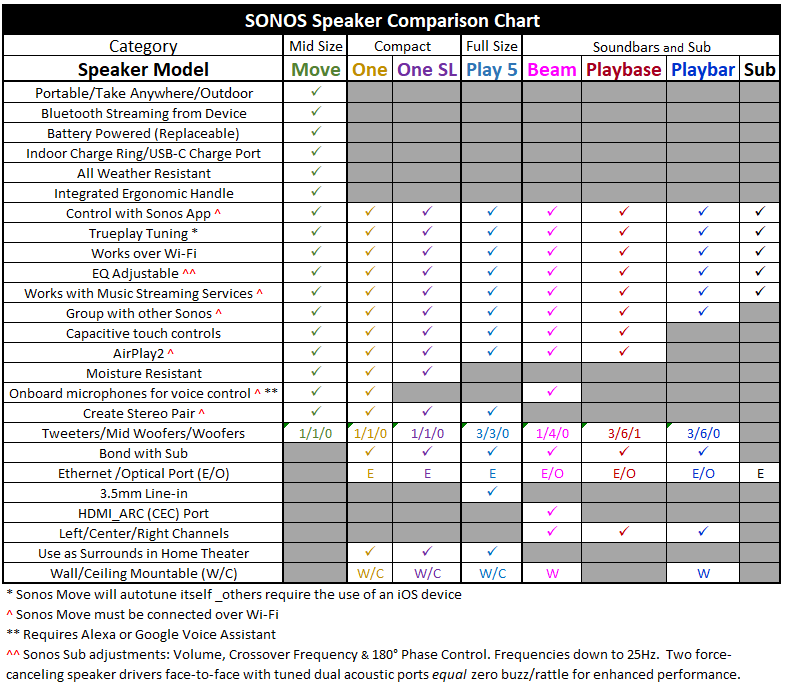 Sonos Speaker Quick Links:
Arc / Move / One / One SL / Five / Beam / Sub
NOTES:
Information regarding the Sonos Five; the successor to the Play: 5, and how it differs can be found in FAQ's 
More information on the Sonos Arc can be found here.
Sonos Sub 3rd Generation Information can be found here in FAQ's.