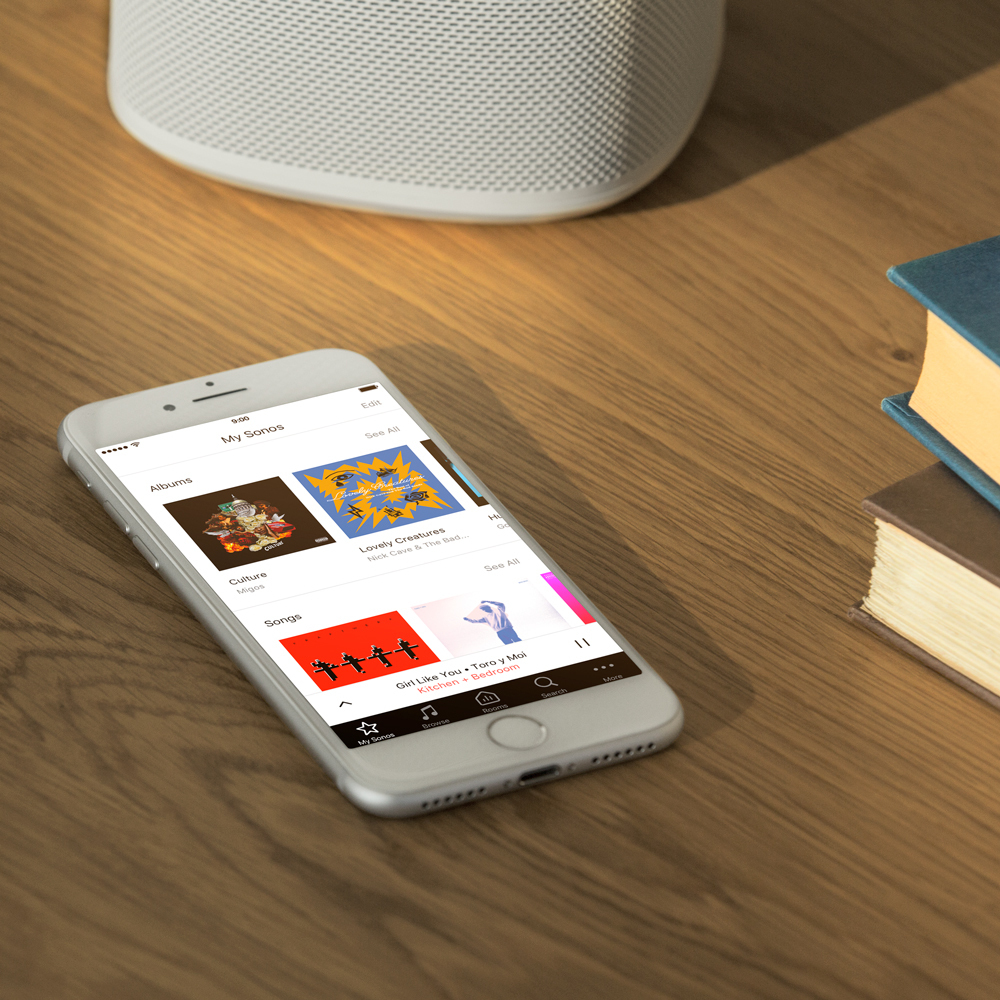 Sonos version 8.0 is introducing a brand new controller for iOS and Android. The new Sonos app makes it even easier to navigate, access, and control your music throughout your home. This new app comes side by side with voice control through Alexa devices, more about that
here
.
Check out our blog for the
Remastered Sonos App.
Full details on the new apps can be found
here
on their respective product guide pages. Let's take a look at the new app:
Introducing Navigation with Tabs:
The Sonos app now has five tabs visible at the bottom when not in the full playing screen. The tabs are My Sonos, Browse, Rooms, Search, and More. See here:

Now your most used options are available with just one click, and Now Playing is always just one tap away.
My Sonos
We've consolidated all your personally curated Sonos Playlists, music service playlists, and Sonos Favorites into one, easy to use page on the Sonos app. You can edit fields to move around the order, or delete them entirely. You can now have up to 40 favorites total, up from 32.
Browse
Browsing your music is even easier as it no longer hides your other options. You can browse and move to different rooms all while keeping your place in the browsing menu. There's also a dock on the bottom of the app that gives you easy access to the navigation tabs. You can swipe it up to reveal it at any time, then back down. We've separated browsing your music and the menu for Settings, so it's even easier to find what you're looking for.
Rooms
The menu starts highlighted on the active room, featured right on the app so that it's even easier to see what's playing in each room. There's now an icon on that screen to show you where the music is coming from too. That includes if it was started by Alexa. The active room has a Group button to have it add others to the party.
Search
It hasn't changed, just moved to an easy to find spot.
More...
All the settings and options are in here. You can add services, make alarms, get some help, and access all your settings. We think this will make it a lot easier to find what you're looking for. And speaking of settings…
Explicit Language Filtering
Within Settings > Parental Controls, you can set a system-wide setting to filter songs with explicit content. Right now, this is working for Apple Music, and we're hoping to add it for more services soon. Once the setting is on, Apple Music songs with the explicit tag will no longer play on your system.
Long Press to Group
Making it even easier to play music. With 8.0, you can press and hold the Play/Pause button (or mute on older players) to have your player join the most recently active player as a group. First, you have to start playing music on a player, (it can be from an alarm or any other source), and then just hold the button for a few seconds on another player. That second player will join the first one's group and start playing the same music in sync.
There's another function of the long press, and that's being able to move recently stopped music to another room. First, stop playing music in any of your rooms. Then, press and hold the play/pause on another player for a few seconds. (Make sure that you don't start playing music anywhere else.) The queue or source will move to the unit you held the button for and start playing. The players won't group together and any existing queue will get whiped out in place of the new one.
iOS 11 and Android O Support
Lastly, version 8.0 has support for the latest operating systems from Android and iOS. This includes iOS 11 support for Trueplay on Sonos. Trueplay isn't available on Android at this time.