The next generation of Sonos software is now available. Sonos S2 is a new app and an operating system for compatible devices, which brings support for higher resolution audio, saved groups, support for new Sonos products, and more.
Learn more about the Sonos S2 app on our S2 home page.
Support for the newest Sonos products
The all new Sonos Arc, Sonos Five, and Sonos Sub will require the Sonos S2 app. These new players are not supported by the Sonos S1 Controller. 
Saved Groups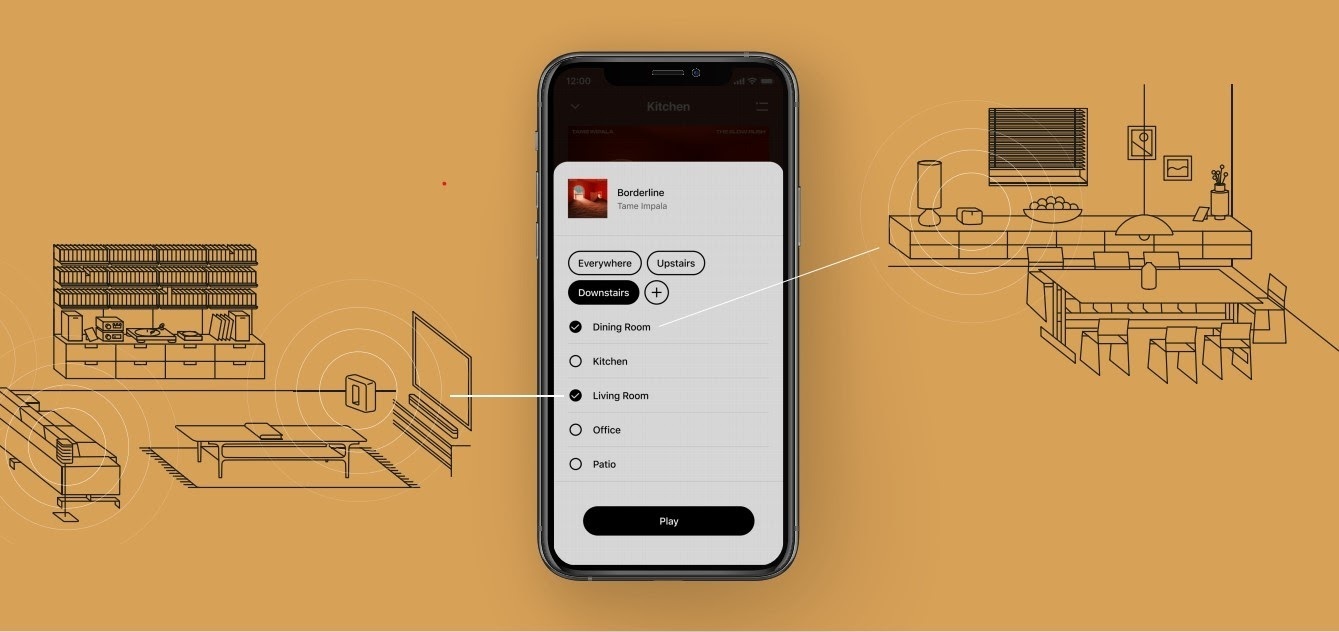 The new S2 app can save groups of rooms to create groups quickly and easily. Once a group is created, you can select it to start playing music and the players will automatically group up. 
High Resolution Audio
With S2, Sonos speakers now have support for high resolution audio, 24-bit, 44.1/48kHz for FLAC/ALAC only. This support is for local music libraries shared from computers and network attached drives. We've updated the article on Sonos supported music formats here.
The Sonos Arc is a Dolby Atmos soundbar, and S2 brings support for that audio to Sonos for home theater and music. Dolby Atmos can be read from Dolby Digital Plus, Dolby MAT, and Dolby TrueHD. 
How to get S2
All Sonos systems will be able to update to Sonos version 11.2, which contains some bug fixes and stability improvements. This version is a new S1 update, and compatible with all players. 
Once the 11.2 update is completed, systems compatible with Sonos S2 will receive a notification that the new app is available. You can tap that notification to start updating and the new app which will guide you through updating compatible players to the new platform. If you don't see the notification banner, you go to System Tools in Settings to check compatibility and update. Sonos S2 is Sonos version 12.0.
You can check our Sonos S2 Compatibility article for a list of products that are compatible with S2.​​​​​
Articles and important information about S2
We will support products on Sonos S1 with bug fixes and security patches, and we will do what we can to ensure they keep working with the music services you love given their limited RAM and processing power.
We've put together answers to some of the top questions we've seen around S2 here, so please check out the following articles on:
Sonos S2 Overview - A great starting place to learn more about S2.
Sonos S2 Compatibility - Information about the differences between Sonos S2 and S1, including which Sonos products are compatible.
Set up separate S1 and S2 systems - Learn how to set up a separate Sonos S1 system with Sonos products that are not compatible with S2.
Known limitations with separate S1 and S2 Sonos systems - This article covers what you can expect when using two separate S1 and S2 systems.
Set up a separate Sonos S1 system
Remove Sonos products that are not compatible with S2 - Instructions on how to use the product removal tool in the Sonos S1 Controller before updating to Sonos S2.
Information about Trade Up:
If you're interested in updating older Sonos speakers, here's all the details on our Trade Up program, a way to get a big discount on any new Sonos products that are S2 compatible.
Trade Up home page - Get a general overview of the Sonos Trade Up program.
Trade Up support article - Step by step instructions on how to trade up your eligible Sonos products.