I apologize if I'm asking questions that were already answered, as I have searched this forum and found some answers, but not all of them.
I currently have in my Family Room, the following setup: Playbar, Sub, and 2 Play 1s (so surround sound). If I was to purchase a turntable and want to hook it up to my Sonos, like this one (https://victrola.com/collections/record-player/products/victrola-6-in-1-nostalgic-bluetooth-record-player-with-3-speed-turntable), I understand I would need to also purchase a preamp and then either a Connect, Connect Amp, or Play 5 (only equipment that has audio in jacks).
Here is my first question: If I have zero interest in using the built in speaker with the turntable and only want to use my existing Sonos speakers to play the music, my assumption is go with the Connect over the Connect Amp? (since I don't need an amplifier). I know the purpose of the Connect is mainly to provide audio to your existing speakers, but it seems to be the cheapest option with the "audio in" port. I don't need the Play 5, sinceI already have great speaker coverage in the room.
Here is my second question: Would this be the setup. RCA Audio out jacks on the turntable to Preamp RCA in jacks. Preamp RCA out jacks to RCA in jacks on Sonos Connect?
Third Question: This is for a separate project. I recieved my uncle's "1960 stereo". It has a turntable built in as well as AM/FM and shortwave radio. On the back on the equipment are two outputs for external speakers (see photo).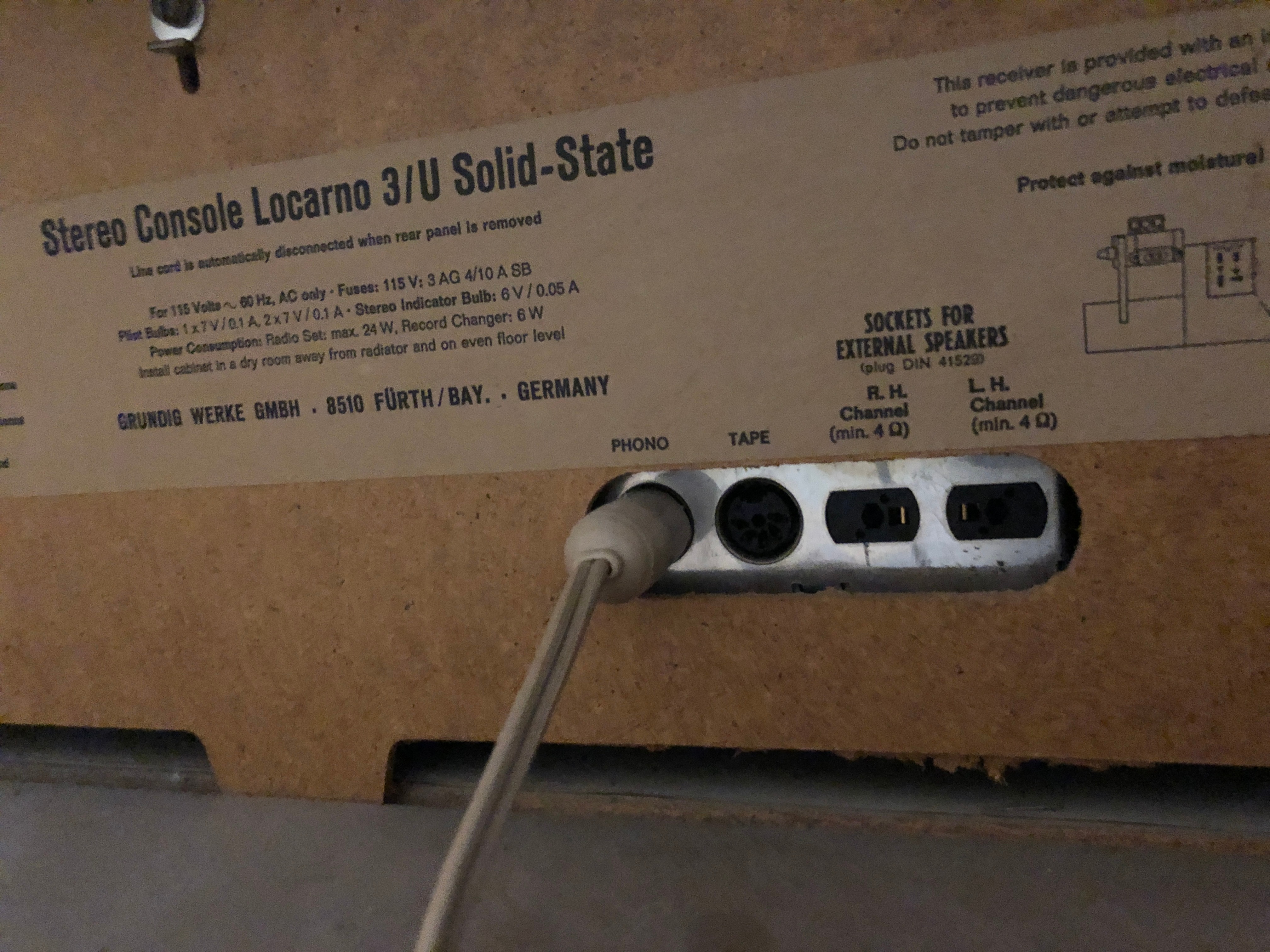 It has DIN 41529 Right and Left inputs. Besides the preamp what other "converters" would I need if I wanted to hook this up to my Sonos? It's probably going to be an expensive project, but wanted to see what was involved.
Thank you so much for your help!
Best answer by Airgetlam 27 November 2018, 16:59
First question: Yes, the CONNECT will provide an input without having an amp associated to power speakers.
Second question; Yes, you seem to know exactly what you're doing here :)
Third question: Aha, this is much more challenging. And confusing. What is it you want to connect to your Sonos? Do you want your Sonos to be powering the speakers in this device? Or do you want the output from those two speaker outputs to go into your Sonos?

Those speaker outputs are not at phono or even line level as you're dealing with in your previous two questions. They're completely variable, and controlled (I'm assuming) by some volume control on the front. This can (not must!) create issues for taking that as the line in to a CONNECT. So, if that's the case, you'd need some sort of cable that connects to that output, which is super hard to see on my monitor, and ends in RCA jacks. After connecting the two devices, I'd start testing it at somewhere below 10% of volume on that 1960 stereo, and fiddle more with the line-in settings in the Sonos controller. The issue you're trying to really avoid is over powering that input to the CONNECT. And then, once you've found the correct variable amount on both sides, you need to not mess with the volume control on the 1960 stereo at all. For what it's worth, I would not want to do this kind of setup at all. To much opportunity for loss of control.
View original