Hey,
I got turned on to Sonos a few years back when I went to a couple of parties and they simply ended up being a Sonos party; you know the ones where you take turns in putting a single song and your life thereafter is judged by everyone on the single song you chose! (I still claim that Starship are an awesome group!)
Currently I have a single Play 1 (no idea on what generation) which sits in the dining room and will either play there at parties in the winter or will get moved into the garden (though range is an issue) in the summer. Whilst it is suitable for the smaller rooms I do want to build on it.
I also have an older (and at the time expensive) separates AV/HiFI home cinema setup that I do not really use.
The general idea was to purchase a Play 3 for the dining/garden rooms (ie for the parties) and another Play 1 and a sub for a 2 x play 1 + Sub. Eventually I would move to a sound bar and then move the play 1's into separate rooms.
So my questions are:
1. Will a 2x play1 and a sub work? for the TV (or thinking about it, do I need a bar to get the P1's to work?) as the front main speakers.
1a. If I need a bar, will a bar + play 1's work?
2. I see very little on the forums about play3's. Why is this? Are they a good choice?
3, Assuming the above works the long term strategy was to then move the P1's into smaller rooms separately and purchase a bar.
What do you think and would it work?
Best answer by AjTrek1 29 October 2016, 22:45
Hi Leemonk
Let's attack your issues by the numbers:
I
Refer to my previous post wherein I outlined the differences between Play 1 and Play 3 speakers.
II
Sonos Playbar can only be used a speaker connected to your TV via optical input. You would set it up as a Zone (eg. TV Room). Add a Sonos Sub to amplify the low-end sound effects of movies. Add Play 1's or Play 3's as surround speakers to achieve DD 5.1 (No DTS or Dolby HD). To get DD 5.1 your TV must be able to send DD 5.1 over optical. Check your owner's manual and/or research it at manufacturers website or elsewhere on-line to be sure. Since the Playbar is set as Zone it can be selected to play music. TV does not have to be turned on.
III
Sonos Play 5 is at the top of the Sonos speaker line-up. It will fill a room with sound and play louder than a single Play 1 or Play 3. However, if you are wanting a stereo effect beyond 6ft (2m) a pair of Play 1's or Play 3's configured as a stereo pair most often equal a single Play 5. You may still lack a bit of the low-end unless you pair a sub with the Play 1's or Play 3's in stereo pair.
However, doing the latter - Play 1s or Play 3's in Stereo pair with or w/o a Sub – rivals and/or surpasses a Single Play 5 in price. So, at this juncture I'd go with a single Play 5 for the dining room and use the Play 1 in the garden. IMO moving a Play 5 around is a risky proposition as it is a substantial speaker by weight.
IV
Sonos Boost can improve signal strength as it sets up a dedicated wireless signal only used by Sonos components. However, I suspect your weak signal is due to your WiFi. Every Sonos speaker except for the Sonos Sub can be placed in a "Boost Mode" by connecting it directly to your router via Ethernet. Doing so can save you the cost of a physical Sonos Boost. Click the link to learn more about Boost mode.
https://sonos.custhelp.com/app/answers/detail/a_id/3463?_ga=1.17982521.1605118062.1477100980
If a direct connection to a speaker is not convenient because of your routers location or you just want more flexibility in speaker placement, then a physical Sonos Boost may be the better option.
V
Sonos Connect can be used to bring a non-Sonos component into the Sonos environment such as a CD player or in your case your ONKYO TX-SR875. View the diagram below on how to make the proper connections to Tape and AUX.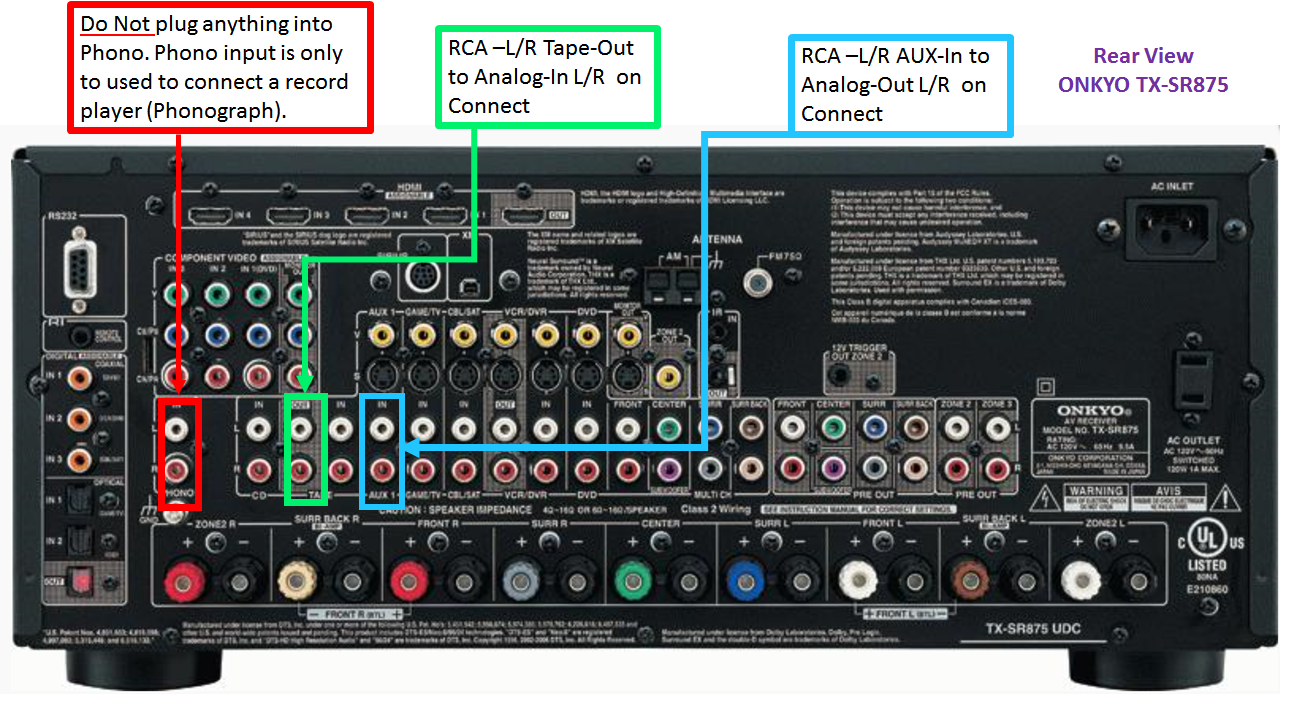 When all connections are made set the Connect as a Line-In Zone in the Sonos Controller App. Select a play source connected to the ONKYO TX-SR875 then from the Sonos Controller App select the Connect Line-In Zone and group it with other Sonos speakers to have them play the same music. As I said in a previous post…
"Tape on a AV component is always open and receiving audio from whichever source (CD, Phono, Radio) is selected. You might consider the Tape as a victim of an audio-drive-by . The only time one would select Tape as source is for playback of recorded material on a connected tape deck. As the Sonos Connect is not a recorder (tape deck) there is no need to select it (Tape) as a source - Ever." Do not select Tape Monitor either.
Speaker Volume control for the ONKYO TX-SR875 when playing a source connected to it (CD, Phono, Radio) will remain with it. Using the volume slider in the Sonos Control App will only affect Sonos speakers.
VI
AUX connection as a source on your ONKYO TX-SR875 will only be selected if you are streaming music to your Sonos from something like Spotify or on-line radio services. Here again there is no need to select Tape nor Tape Monitor.
VII
DO NOT plug the Connect into the Phono Inputs. The only device that should be plugged into Phono Inputs is a phonograph, record player or vinyl disc player (whichever name you chose to call it).
I hope this gets you where you want to be. Good Luck!
View original