Hello all,
I've been looking to upgrade my home sound system as I currently have a cheap 2.1 soundbar/sub from Monoprice that I got for ~$40. After doing more research, I'm considering going for a 5.0 (5.1?) setup, with a Playbase + 2 x rear speakers, of which I'm gravitating towards the Play 1s. That said, I had a few questions I was hoping to get opinions on.
For context, I primarily use my TV for gaming, but it would be nice to be able to play music/podcasts in my dining/kitchen area (it's an open floor plan style great room) too. I had a few concerns I was hoping to get opinions on
Below is a poorly drawn diagram of my living room/dining room/kitchen layout. I should also mention that, since its an A-Frame style house, I have very high ceilings, 20-25 ft .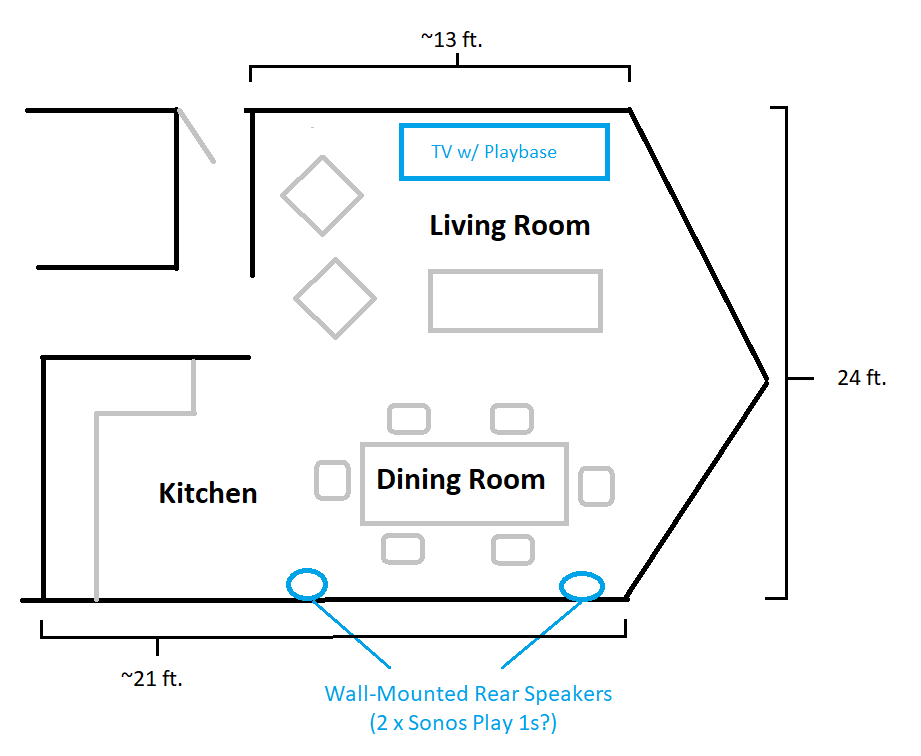 My concerns:
1.) Would the Playbase + 2 x rear speakers be enough, given the space of the room? Again, I also have very high ceilings, 20-25 feet high. Right now buying the sub would be out of my price range as the base + 2 x Play 1s put me at the top of my budget, but I know that I could always invest in a sub later on down the road if necessary.
2.) I'm concerned about the placement and distance of the rear speakers. My plan is to wall mount them since I don't really have any other place to put them, but I realize they will be slightly off center to the base/couch and a good 10-12 feet back from the couch. On the plus side, having a couple of speakers nearish the kitchen would be great for podcasts/music while cooking.
Thanks again!