Update - 11th June 2021:
BT have confirmed that the firmware update that contains a fix for this original issue has been rolled out to the majority of users. Therefore, we can consider this issue closed. 
If your BT Smart Hub 2 router is still running the affected firmware (V0.26.03.01286) then please get in touch with BT directly.
Anyone that still experiences issues on the latest firmware, please create a new topic or get in touch with Sonos Customer Care.
---
Update - 7th May 2021:
BT have issued a new statement:
"We're aware that a very small number of customers are experiencing an issue with their BT Smart Hub 2 connecting with multiple streaming devices on their Wi-Fi network. Any customer who experiences this should get in touch with BT who will update their device remotely as soon as possible. BT will be rolling out an update to all devices later this month. We're sorry for any inconvenience caused."
---
Original post - 22nd April 2021:
Hey everyone,
We're aware of an issue affecting Sonos users with BT Smart Hub 2 routers that causes problems with connecting to players in a wireless configuration. This is caused by a bug in the BT Smart Hub 2's firmware (version V0.26.03.01286) which prevents devices on the 5GHz band from communicating with devices on the 2.4GHz band, and vice versa. Most of the affected users have iPhones running iOS version 14.4.2, but we have seen other types of controller, such as Android devices, affected by this issue as well.
The most consistent workaround we have discovered is to disable the 5GHz band on the BT Smart Hub 2. You can learn more about how to do this using these steps:
Please be aware, turning off 5GHz could affect the speed at which other devices connect through the network and should only be considered a temporary workaround.
Steps taken from a post on the BT Community.
1) Open a new web browser on a device connected to your Hub and type 192.168.1.254 in the address bar. This will open the Hub Manager.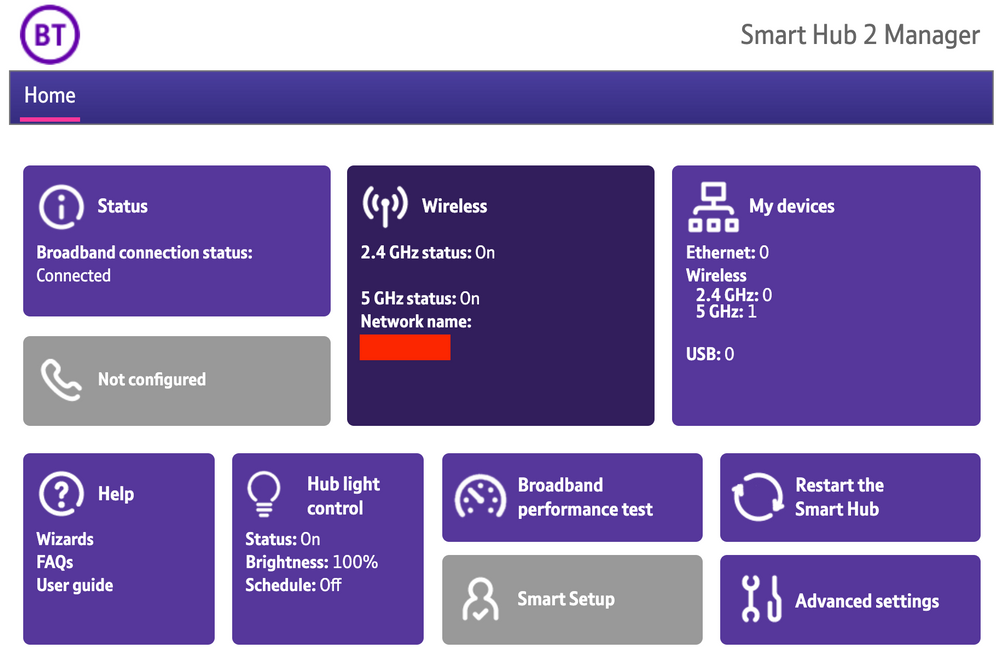 ​
2) Click Wireless. This will open the Wireless Settings page.
3) Select 'Change settings'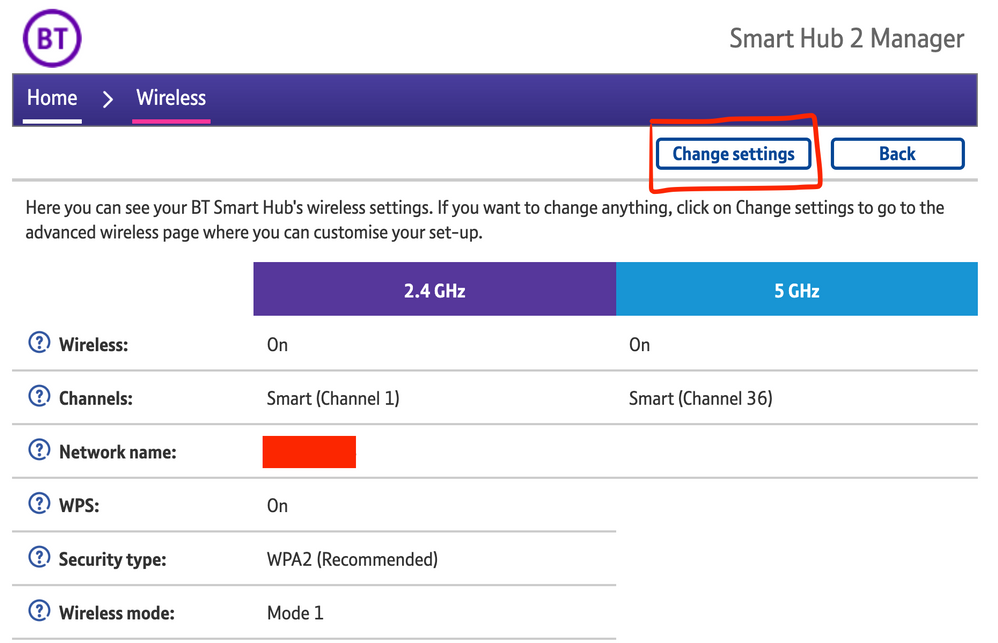 ​
4) Enter the Admin password. This is found on the back of the router and on the removable card. Click 'OK'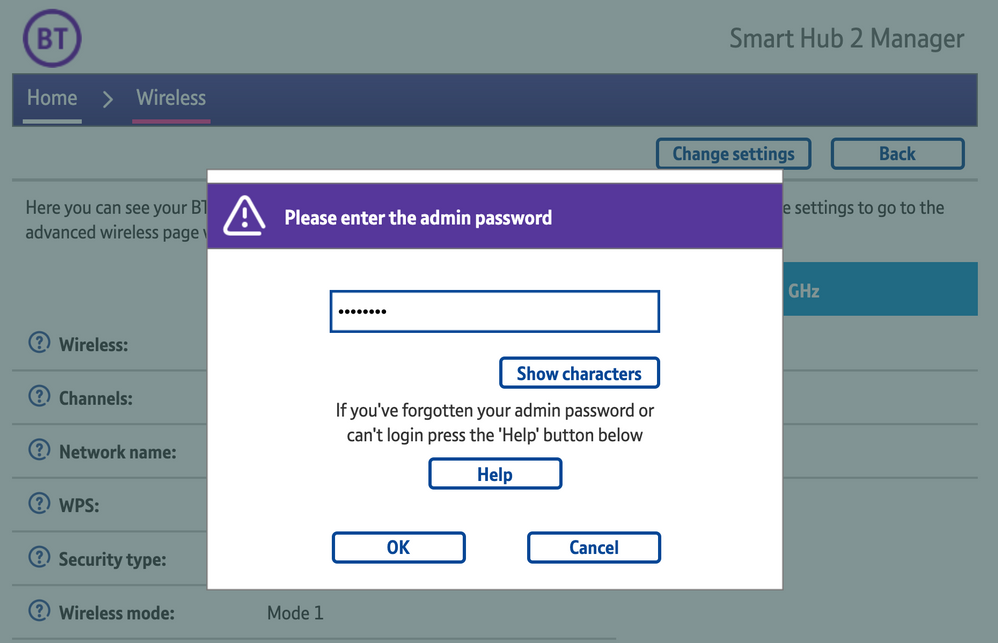 ​
5) Toggle 5GHz OFF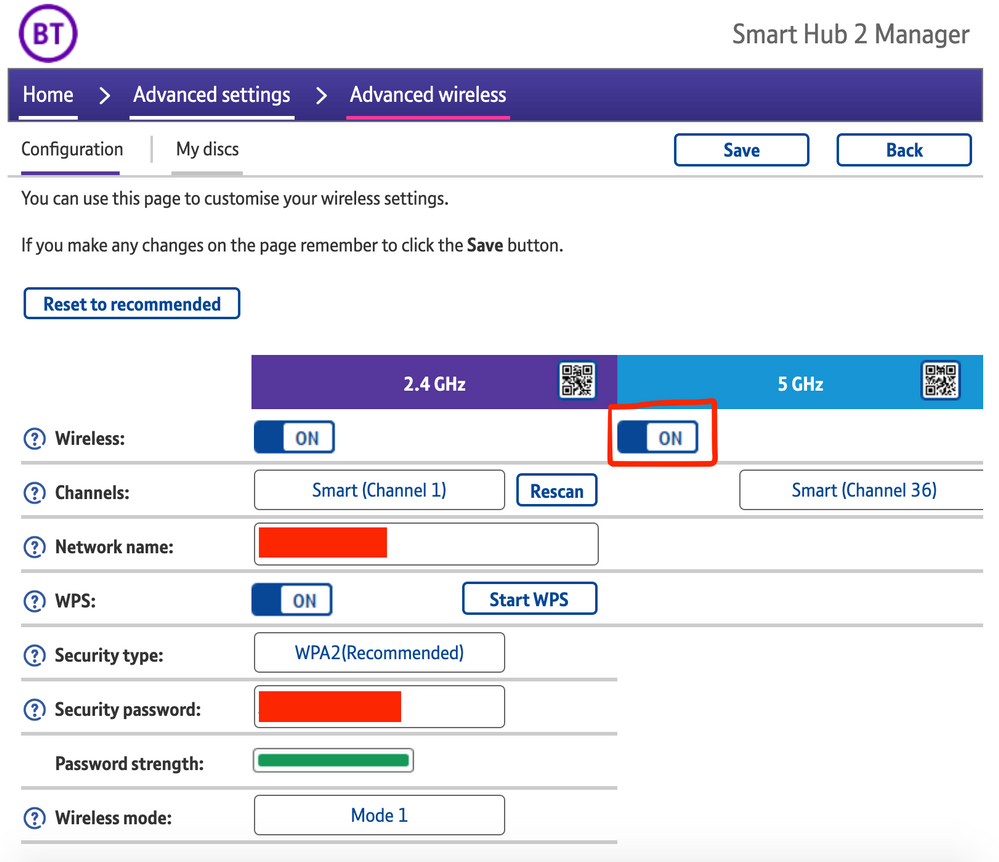 ​
6) Click 'Save'
​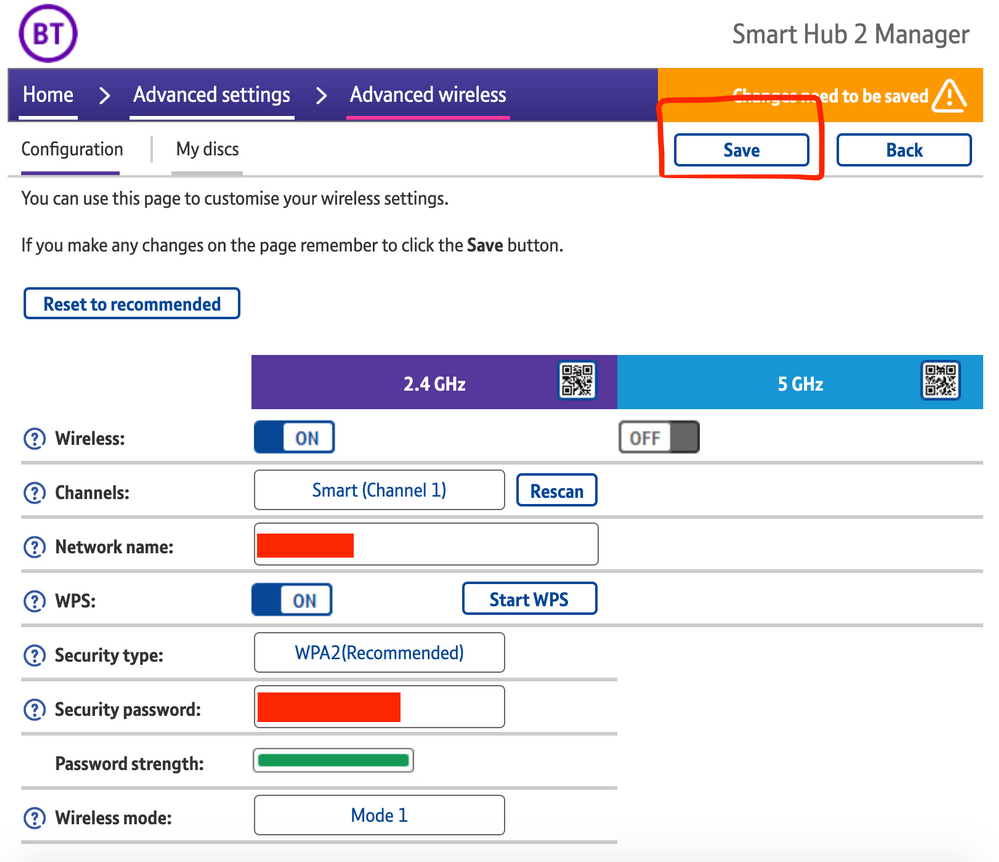 7) Click 'Yes' at the warning prompt.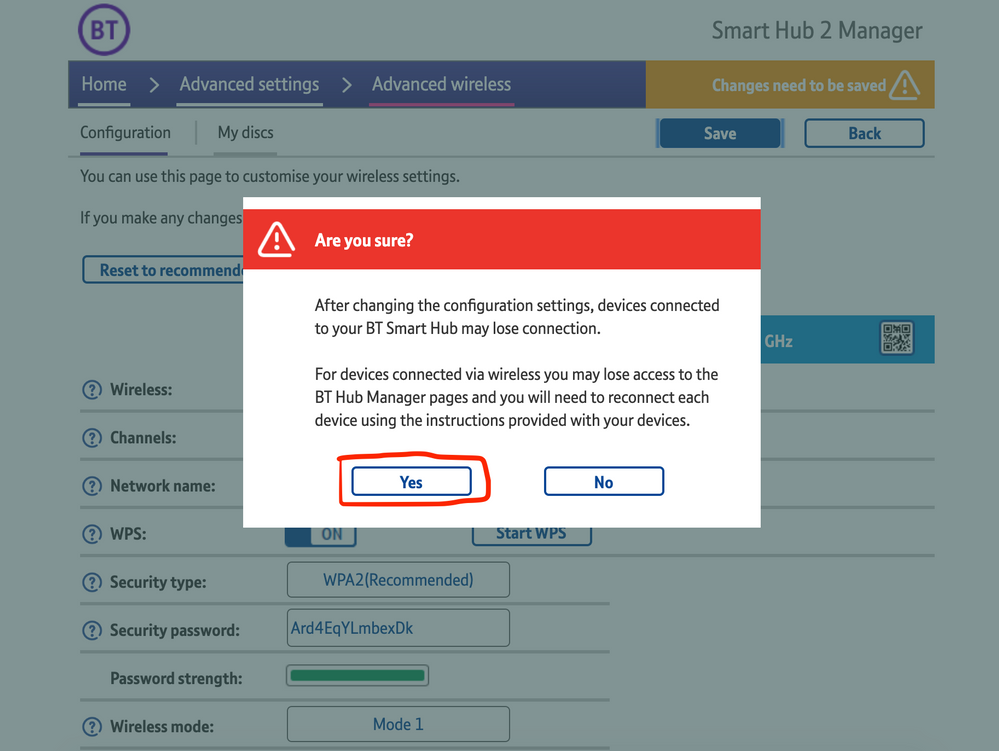 8) Wait for your devices to reconnect. You may need to reboot your Sonos devices by powering them down for 30 seconds and powering them back up.
​
Alternatively, some users have been able to work around the issue by wiring a player directly to the router, though this doesn't work in every case. Systems that have a Sonos Move or Roam on them will also not be helped by this change, so disabling 5GHz would be best for those households.
 We recommend that you report this issue to BT with the following information:
"Devices connected to the 5GHz band are not able to communicate with devices connected to the 2.4GHz band and it appears the connections are being erroneously isolated."
You don't need to specifically mention Sonos devices when reporting this issue to BT as the information alone will be enough for them to recognize the issue you're facing.
 
BT are indeed aware of this issue and are actively investigating and working to resolve it as quickly as possible. We'll update this post with any further news as and when we receive it.