Hi Folks, 
I'll share some general advice about how Sonos products connect to your network, and the kind of network problems that can result in dropping rooms, to help you understand and solve some challenges with your Sonos system.
5GHz band
Most older Sonos devices will only connect to the 2.4GHz band, whereas some newer ones will connect to the 5GHz band broadcasted from your router. A full list of which devices will connect to 5GHz can be found here on our Sonos system requirements page, under "Products that support 802.11a/b/g/n".
It's important to note that all (apart from early Connect, Connect:Amp or ZP models) Sonos products have 5GHz radios, but typically reserve them for talking to each other. Home Theatre products will not connect to 5GHz, as the 5GHz radio is often busy with talking to two surrounds and a Sub. Sonos prefers to use 2.4GHz as it fundamentally has a better range and a stronger solid-matter penetration ability (it gets through walls, ceilings and furniture easier).
The problems arise when a router mistakenly identifies a Sonos product as one willing to connect to 5GHz, when it isn't. A router feature called 'band steering' tries to get your Sonos speaker to connect to 5GHz as that band is typically subject to less congestion from for instance mobile phones, tablets, laptops, baby alarms, temperature controllers etc. Separating your 2.4 and 5GHz bands so they have different WiFi network names resolves this, if it's an option (mesh systems generally don't allow this). If in doubt, get in touch with our technical support team.
Mesh Networks
If you have a mesh WiFi system to extend the range of your WiFi, and your original router is still present, you must either:
Configure your router to act as a modem only. Some have a specific option for this (like Virgin Media in the UK), but on most router's you'd need to disable the DHCP server. If you still need to use the WiFi coming from your router, or if you connect devices via ethernet to it, this is not an option. Doing this will allow you to use the usually more advanced routing features on your mesh (as compared to those on a free, ISP-provided router).

or
Configure your mesh system to be in 'Bridge/AP mode' - otherwise it acts as a router and you now have two logical networks running on one hardware layer (this is commonly referred to as Dual DHCP). To find out how to do this, perform an internet search for "[name of your mesh system] mesh bridge mode". I've listed a few common ones here:
Netgear Orbi mesh: https://kb.netgear.com/31218/How-do-I-configure-my-Orbi-router-to-act-as-an-access-point
Linksys Velop mesh: https://www.linksys.com/us/support-article?articleNum=243548
Tenda mesh: https://www.tendacn.com/faq/3123.html
Eero mesh: https://support.eero.com/hc/en-us/articles/208276903-How-do-I-bridge-my-eeros-
Google mesh: https://support.google.com/wifi/answer/6240987
In my experience Google meshes can be difficult about going into Bridge mode. Please contact Google if you have trouble with this. If you're thinking of buying a mesh system, I personally advise avoiding Google Mesh for this reason.
Extenders / Boosters / Powerline adapters / Sky Q
Another challenge, with networking and Sonos, is WiFi boosters and extenders. Sonos does not support these as they halve your available bandwidth (due to being half-duplex) and often block multicast transmissions which gets in the way of the Sonos system from operating smoothly. 
Powerline line adaptors can also induce additional issues as they are subject to noise present on your mains power supply ('noise' is created by some LED dimmers, for example).
In the UK, Sky Q boxes can be a challenge with Sonos, as they repeat the WiFi from a Sky router (not from other routers). If a speaker connects to one of these (common with Sonos Home Theatre products) it can result in the speaker being missing from the Sonos app. To get the speaker to show in the Sonos app, you need to disable the 2.4 GHz broadcast of WiFi from the Sky Q box(es). You can go into the Sky Q's engineer's menu (highlight Settings, press 0,0,1, then select Settings), go to Network and toggle 2.4 GHz wireless to OFF then click Confirm. If you do this make sure you leave the 5 GHz on so that the boxes can connect to each other. As with above (in 5 GHz section), you'll need to split the bands to differently named WiFis in the router's settings. If you have Sonos devices that are willing to use 5GHz (see above, under 5GHz band), you may not be able to bypass this issue without using SonosNet.
Sonos and Ethernet
To bypass most WiFi configuration issues, you can connect any one (or more) Sonos devices to the network with an ethernet cable (Sonos Move & Roam excluded). Wired Sonos products will transmit a 'Sonos only WiFi' for use by your other Sonos devices (Sonos Move & Roam excluded). This all happens automatically, but sometimes your speakers need a power cycle (unplug them from the wall socket, and plug them back in again after 30 seconds) to help them along. Wiring Sonos will not resolve anything if you have two routers on your network (as described in the Meshes section). Each Sonos player that picks up the 'Sonos only WiFi' from the wired Sonos speaker will rebroadcast it, thus extending the range for speakers out of range of the wired one(s). 
When you wire a Sonos product, you go from a configuration like this: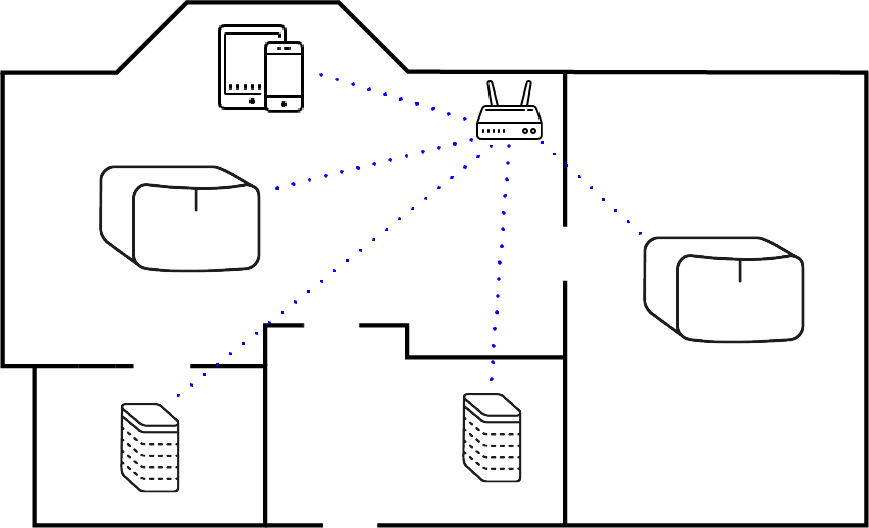 to one like this: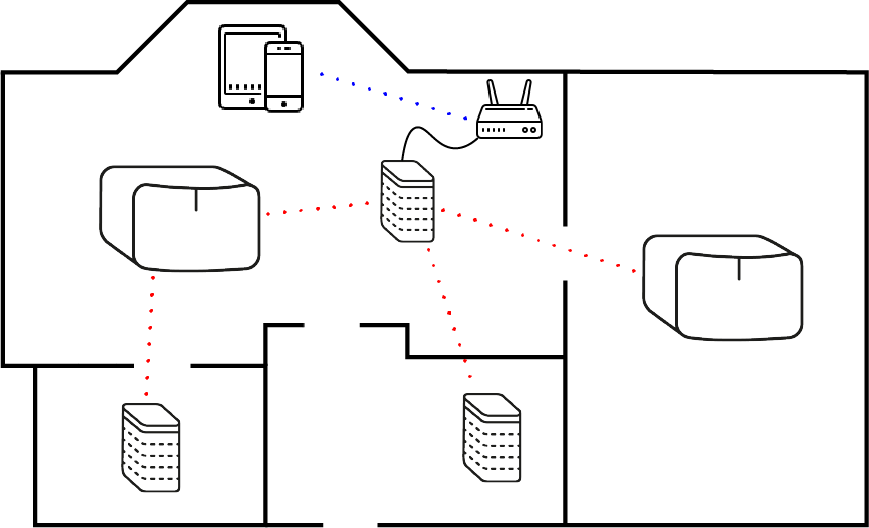 WiFi Noise / WiFi interference
Sometimes it's just not a network configuration issue. All WiFi devices (not just Sonos) like to have at least 1 meter / 3 feet of space from all other WiFi devices (and devices that are not on your WiFi but may use similar frequencies). In my experience, one of the most common solutions to a 'WiFi problem' has been to physically move a speaker/Boost/Bridge farther away from the router it's wired to. A common misconception is that the closer the device is to the WiFi broadcasting unit the better - this is not the case. Sometimes a speaker lived very close the router but wasn't wired - these devices were often kept centimetres apart from each other. We have a helpful guide on reducing wireless interference. Close by glass or metal surfaces can reflect WiFi back at a device and also create interference. 
Interference is, I would say, the biggest cause of problems, like dropped rooms, or music interruptions, for Sonos users.
Controllers
It may be that you cannot connect to Sonos not because your Sonos system is having trouble connecting to the network, but because the device you're running the Sonos app on is unable to communicate with the System (or parts of it).
Although this can be caused by a few things, the most likely are the following:
Multiple Access Points - WiFi boosters and Extenders tend not to work very well. Often, you can only connect to rooms that also connect to the same extender your phone is on, or can't connect to them because your phone is on the main router's WiFi. We don't support the use of these products for the reason. Mesh systems are not affected by this. In the UK, Sky Q boxes repeat WiFi from Sky routers in this way.
Guest WiFi - You cannot run Sonos on a Guest WiFi, nor can the Sonos app connect to a Sonos system if the controller is connected to a Guest WiFi.
On iOS devices - make sure you give the Sonos app permission to access devices on the Local Network. https://support.sonos.com/s/article/3092
On iOS devices - make to to disable Private Address in the iOS connection options for your WiFi network.
Help
Sometimes, no matter how much you know, the speakers themselves have to be 'consulted' as to what is wrong before you will find a resolution. In such situations, the only solution is to get in touch with our technical support team who can receive your Sonos system diagnostics which will tell the agent all about what your system has experienced. If you're going to call/chat with our tech agents, please try to recreate the issue you are experiencing just before getting in touch, if you can, and try not to reboot any players - reboots clear the system logs and as a result the diagnostics contain less information. 
I hope this helps you to understand a bit of what's going on when no steps taken seem to be working for you. As always, we're more than happy to assist with getting your Sonos system stable, so please either get in touch with our tech support if nothing works, or write here on the community if you need more guidance.
Edit: Updated to include additional mesh options, Roam and some other details.
Edit: Updated to include iPhone Local Network and Private Addresses options as they can affect connecting to Sonos