A podcast I have listened to on Stitcher via Sonos for some time has just moved to be on Spotify only. Now searching via Sonos app for this does not find the podcast. When I search in Spotify app, it is there and I can play on my iPhone but when I try to switch playback to Sonos device, get error message for all Sonos devices "can't play this right now". This seems to affect only podcasts rather than playlist or artist searches. Am I correct in assuming that Spotify podcasts can be played via Sonos ? This seems odd if true. Any ideas welcome. Thanks
Best answer by controlav 20 January 2021, 16:47
In case there is still some belief that this is not a Spotify problem, go here:
https://sonos-pmap.ws.sonos.com/spotify_pmap.24.xml
This is the Spotify metadata file, even if you can't read XML, go look at the SearchCategories section, and you will see this: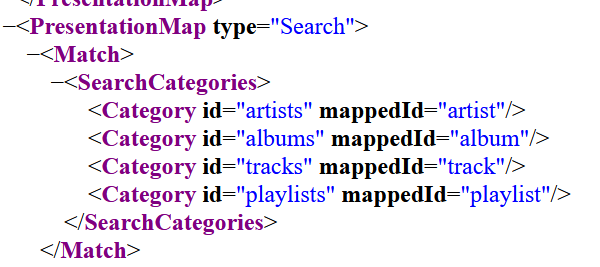 Note: no Podcast entry. This is either a bug in Spotify, or a deliberate decision by them.
However, if you look at the end of the file, at the QuickSkips section, you will see that there is podcast support for jumping forward/backward 15 seconds. Curious. I am going to guess that someone accidentally deleted the podcasts entry in the SearchCategories section.
Suggest someone who wants this feature sends this post to Spotify and tell them to fix it. This is as clear a bug report as could be presented to them.
View original