Hi, i'm looking at options for using a projector (Epson EH-TW6700), Apple TV (Gen 3), an iPad, Playbar, Sub (maybe/ maybe not) and 2 x Play:3's (see image below) to play BBC iPlayer, UK catch up TV and also use AirPlay to stream YouTube music/ videos. Has anyone experience of this setup? Does it work? Thanks in advance.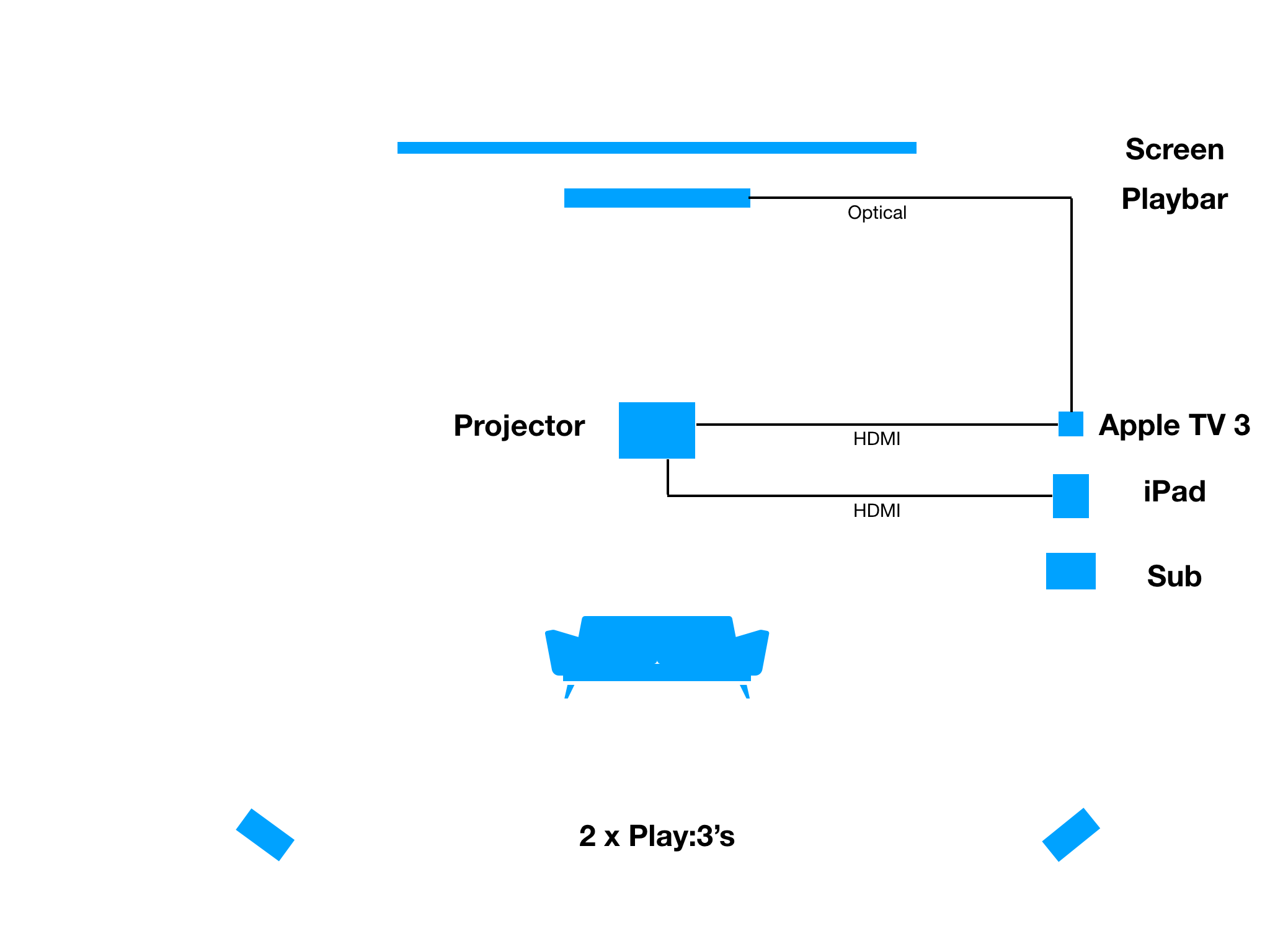 Best answer by AjTrek1 11 April 2018, 15:39
Hi Ali4661

At this juncture Airplay requires the use of an Apple Airport Express in conjunction with the line-in of a Sonos Play 5, Connect or Connect AMP. Click the link:

https://sonos.custhelp.com/app/answers/detail/a_id/1241/kw/airplay/session/L3RpbWUvMTUyMzQ1MzIzNS9zaWQvZlVMUm5EMEQ0eWN5a29Od0ZUVjRnVHFDYXR6WENRaDNEaGNGajZpTGE0WHBmN3U0UjdUNFFUdWhmZUZORTJyb3ROTFRkeDdYZENZTllZYlpFbVk3cHRoNnNJdl9HQ2NXTTlVWnh0UU9PYnRFX0ZQdE44bDhSTGNRJTIxJTIx

That said using Apple TV as you have diagramed should work. In fact the Apple TV remote will control the volume level of the Playbar. The settings are in Apple TV menu.

You might use your iPad to mirror images to your screen via the Apple TV. According to the Epson EH-TW6700 manual that would be the only way for iPad audio to play through the Playbar; otherwise it will only be heard through the Epson's built-in speakers.

https://support.apple.com/en-us/HT204289

Cheers!
View original