I am an Apple ignoramus. My wife wants to use iTunes on her Mac to send to our Sonos system using Airplay. However the Sonos support page just talks about iPad/iPhone w.r.t. Airplay and when I look on her Mac, the Airplay options only show our Apple TVs as destinations. Can a Mac not use Airplay to Sonos gear?
Best answer by pwt 20 September 2018, 16:10
Yes, a Mac can use AirPlay to send audio to AirPlay-capable Sonos devices. You should be able to select Sonos Airplay targets by clicking on the Sound icon in the menu bar, as shown below in the example from my system.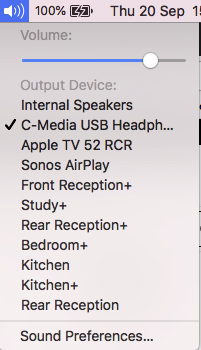 If this does not work for you, let us know what version of OS X you are running, and which Sonos devices you want to use.
View original