Hi!
So you've bought your first Sonos speaker, plugged it in, downloaded the Sonos app and completed setup. Now what? This is not a comprehensive guide to using the Sonos apps and their features, but an introduction to you as a new Sonos user so you better understand the basics of use, what the differences in apps are, and the beginnings of what the apps can do for your new Sonos system.
If you are looking for help in how to use the Sonos app and you don't find it here, please visit our support pages and search for keywords, or ask a question in our forums - we have a very helpful community.
Like all apps, ours have minimum system requirements but unlike others, if these are not met the Sonos app may still be able to run in a limited-compatibility mode whereby it can still control playback, but not configure the system.
In Sonos-speak, we commonly refer to the Sonos apps as Controllers.
Getting the Sonos apps
You can download all the Sonos apps directly from our Downloads page, or from Google Play Store / Apple App Store. 
On the app stores, there are only 2 official apps: "Sonos S1 Controller" and "Sonos" (S2) - if the title varies even slightly, or if it asks for any payment, it's not our app.
What the Controllers are not (common misconceptions):
Music players. None of the Sonos apps can play music - they instruct your Sonos products to play, and report what Sonos products are doing. You can set a playlist going in the app, then shut the app down, turn off the device the app is running on or run out of the door - the speakers will keep playing regardless (assuming the music being played isn't stored on your device).
The only way of playing music on your Sonos system. You can start playback on any Sonos player with Alexa or Google Assistant via their devices, or from Sonos players that support these services (Arc, Beam, Move, Roam & One). There's now also Sonos' own Sonos Voice Control, with the soothing tones of actor Giancarlo Esposito. You can also play directly from some music service's own apps. Spotify and Amazon are examples, but more are listed on our Music service direct control on Sonos page. Additionally, playback can be started from an AirPlay2-broadcasting application or device. Of course, there's also the Play/Pause button on the Sonos speaker/player.
A way to have multiple, separated users on your system. You can add multiple controllers to a single system, and a single controller can connect to and remember multiple systems, but a Sonos system can only be registered to a single owner, and all the apps connecting to a single system will show the same information and have access to all the added music services. You can add multiple accounts from a single music service, however, and label them accordingly.
S1 & S2

If you're new to Sonos, most likely you'll have the S2 app and products, and you don't need to worry about S1. All the products we currently produce and sell are S1 and S2 compatible, or S2 compatible only. So, if your product is brand new, S2 is for you.
Because all Sonos units on a single system must run exactly the same version of software to work with each other, some of our older, original products were holding our newer ones back, in terms of features. These older units are now S1 compatible only.
The two apps are very similar looking, though there are differences in function. An important difference is that S1 cannot see that a new player is ready to be installed, and must be told to do so (Settings » System » Add a Product).
The Tabs
At the bottom of the Sonos app is a row of buttons. Unless you're in the middle of a configuration process, you'll always see these buttons:

This is the My Sonos tab. In here go your favourites (once you select a track/station/playlist and choose Add to My Sonos) and Recently Played. There's also an inbox where we'll post major announcements.

This is the Browse tab. This is where you select a source of music for a room (selected in the next Tab). Sonos Radio, Spotify, Apple Music, Amazon Music, YouTube Music - they (and many others) can all be found here, but must be added to your Sonos system first. In addition to online streaming music services, you can also find Music Library (for locally stored music), TV/Line-In and On This Device (Android only) sources here.
This is the System tab. Here is where your Sonos rooms are shown. There may be 1 speaker in a room, 2 in a stereo pair, or up to 5 units working as a Home Theatre surround sound system in one room. When you play to a room, all speakers in that room will play together. 
You can also group rooms together here using the Group button. More about this later.

Unsurprisingly, this is the Search tab. Here you can search multiple (all) sources in one search! Search for artist, tracks, stations, etc. - if you can play it, you can find it here. Only 3 results from each source is shown, so if you want more, tap on the Service source name.
There is now Classic Search and New Search. New Search will use one search query to search all categories - Artist, Track, Album etc. In addition, the results will now be sorted so that the results from music services used the most frequently on the system will appear at top.

This is the Settings tab. If you want to do something in the app that doesn't involve playing music or podcasts, it's probably in here. There are a few sections:
Account Settings to do with your Sonos account.
System Each room can be configured in here. Looking to setup a stereo pair, move a Sub, turn off the speaker's light/buttons, or adjust EQ? Here is where to look. Settings vary depending on the type of device(s) in a room. Home Theatre related settings are here too. There are also system-wide settings in here: WiFi credentials and other network settings, Alarms, Parental Controls and more.
Services & Voice Want to add (or remove) a music streaming service or Voice Assistant to your Sonos system? Find them here. The Services that are available depend on your location.
App Preferences Notifications, Lock Screen controls, Pop-Ups, they can all be controlled here. These settings only affect the controller you are using.
Support Links to help can be found here, including useful Tips.
Data & Privacy Because we provide Recently Played lists, we need permission to gather data. You can agree or opt out of this here.
Legal Terms and Conditions
Now Playing
When a room/group is selected in the System Tab, there's a floating Now Playing/Selected card above the button bar. This is usually visible in the app on all tabs. Tap on this and it expands to the Now Playing screen: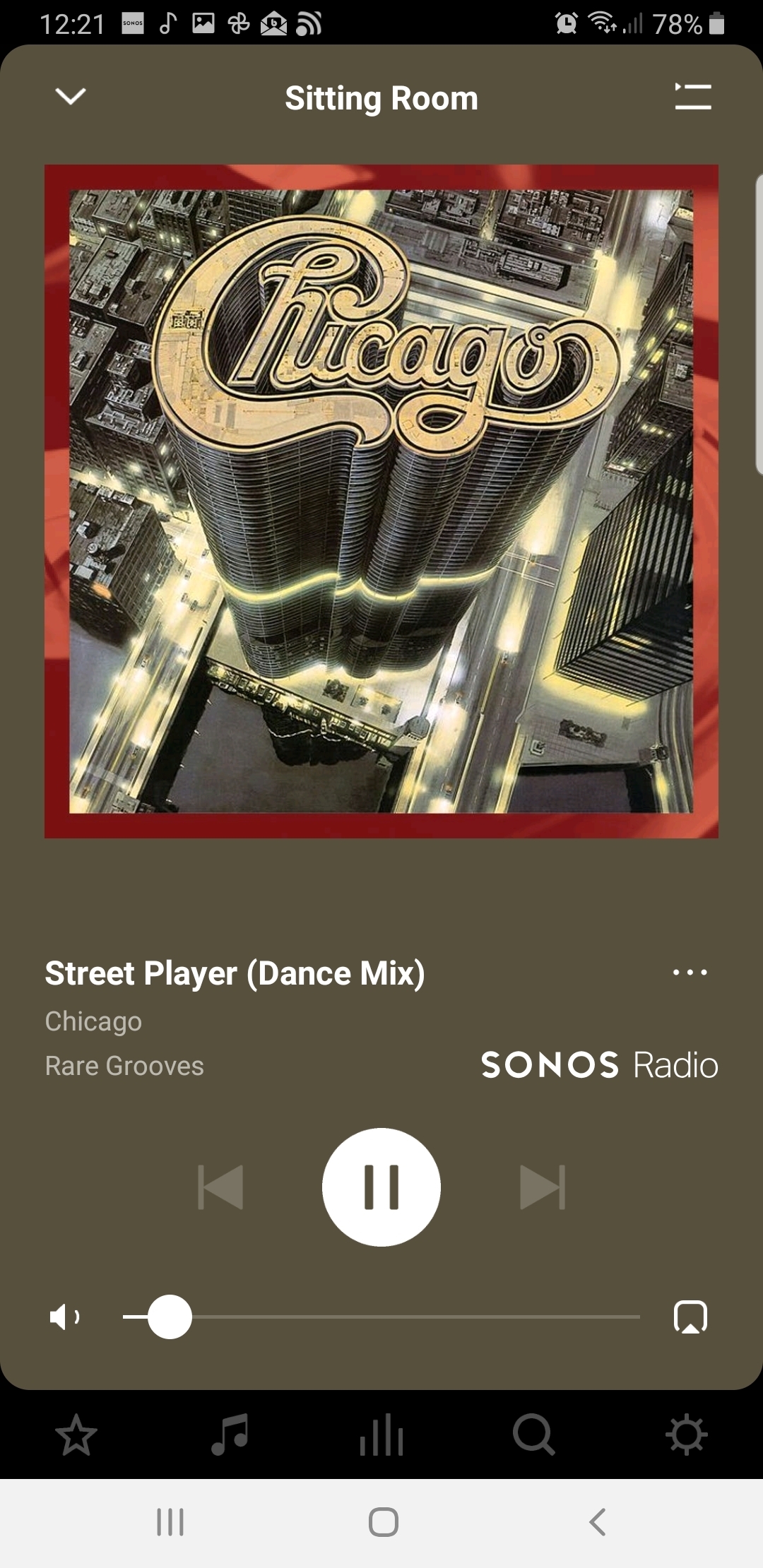 Here, you find all the usual playback controls. At the top right is the Queue button for showing the current play queue. There's also the context menu button:
Tap this and you'll be able to add the track/station to My Sonos, search for similar and adjust Crossfade and Sleep Timer. The same button in the Browse tab allows similar actions.
Exit the full screen 'Now Playing' by tapping the 'down arrow' in the top left.
Grouping
If you have more than one Sonos room, you can group them together to play the same source, in sync, across your system (TV sources excluded - it works, but often out-of-sync). In the System (Rooms in S1) tab, and in the full-screen Now Playing page, you'll see this icon:

Tap this icon to spread what's playing on the selected room across other rooms, and to ungroup too.
The room in charge of a group (selected first) can be important - if you have playback issues with groups, try changing the first-selected room. Generally, the room with the best internet connection is the best choice (closest to router or ethernet-wired).
Windows/Mac
Also known as the Desktop Controllers (DCR), these apps are limited in function. With a DCR, you can select rooms and music to play, group/ungroup, add/manage your Music Services and add/manage your Music Library. You cannot configure your Sonos system from a DCR.
The DCR has one page: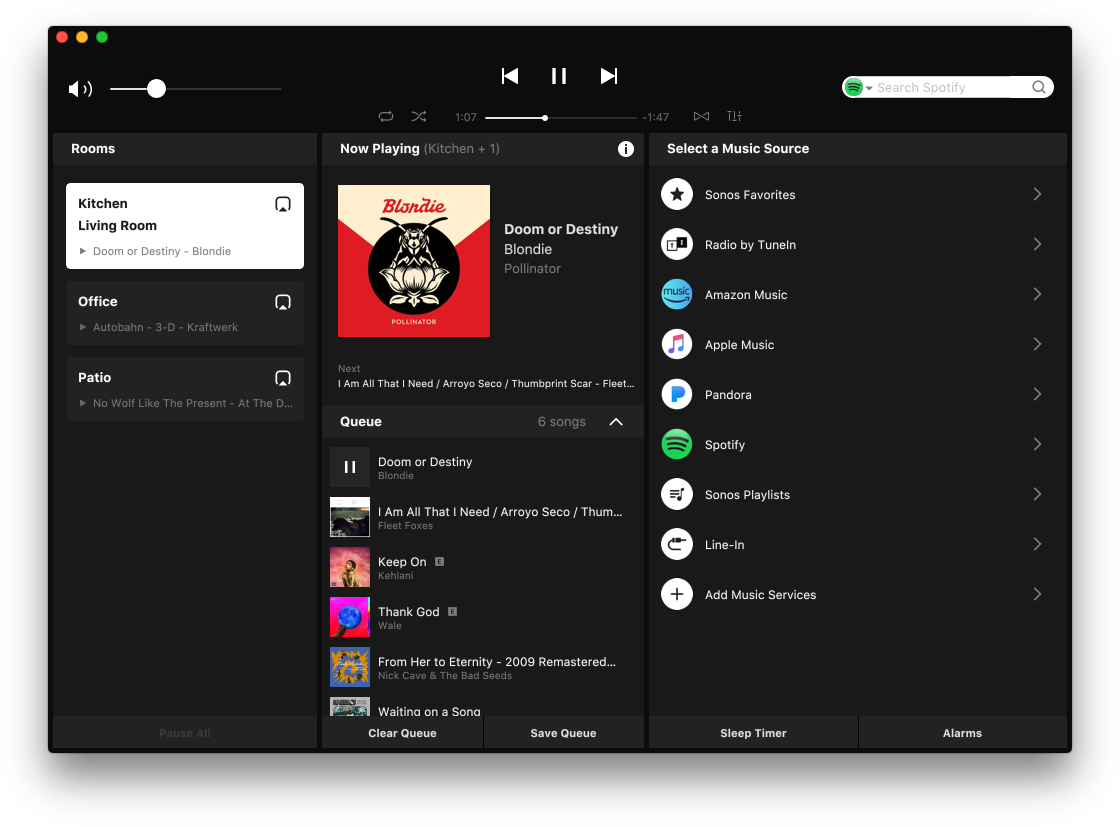 At the top are the usual playback controls and the search bar. The search bar on the DCR cannot search all sources at once - you have to click the drop-down arrow next to the icon within the search bar and select where you want to search.
Below that are four sections:
Left - Select and group/ungroup rooms
Centre - now playing Album Art and the play queue
Right - where to Browse your sources. Search results are shown here too
Bottom - some additional buttons are here
Not shown in the picture is the menu bar - in Windows this is attached to the Sonos window, in macOS this is at the top of your screen. Here, you can add/manage Music Services and Music Library.
Although it's not strictly needed, if you want to share a music folder on your computer or NAS to your Sonos system, we recommend that you first install the DCR and setup Music Library from there.
Permissions
When you install your Sonos Controller app, your device will ask for certain permissions to be allowed. Here's why each is requested:
Location - Location access is required to detect your nearby products during setup and your mobile device's WiFi network information. We don't store your geolocation, and you can switch this option off in your device settings after you've finished setting up the products.
Bluetooth - Bluetooth access is required for Sonos to detect your nearby speakers during the setup process. Most of our modern products have a BLE (Bluetooth Low Energy) beacon in them which helps achieve a smoother setup experience. It is also required in order to set up and use a Sonos Move or Roam in Bluetooth mode. 
Local Network Access - On iOS only (at time of writing), you need to allow apps to communicate on the local network. Sonos clearly needs to do this to control your players.
WiFi - If you open the Sonos app while WiFi is disabled on your device, the app will turn WiFi on for you.
Microphone - The microphone on your device can also be used during setup if the player is on S2 version 13.0+ and isn't a component without internal speakers. This kind of setup flow is called Audio Modulation. The speaker plays a tone to securely transmit its setup key to the controller. The microphone also used during Trueplay tuning (iOS only) to measure room acoustics by listening to a test tone produced by the Sonos speakers. Denying this permission will deny you the ability to tune your speakers with Trueplay.
NFC - Also used for setup on S2 version 13.0+, NFC (Near Field Communication) allows a phone to securely join your player to your system requiring only a quick tap of your phone on the player's controls. It's the same technology as when you use your phone to pay in a store using "contactless".
Get Cracking!
OK, you now know all you need to know to get going on your new Sonos System, so stop reading this and get the tunes on!
If you have any issues, don't put up with them - we can and will help, either here on the Community or via our technical support channels.