How do I connect a Sonos Connect to a receiver so that I can listen to CDs on my Play 1 speakers? I've connected the audio out on the Connect to the CD audio in on the receiver - nothing plays. I've hooked it up to the Tape audio in on the receiver, tuned the receiver to Tape, again nothing happens. As best I can tell, the Connect was successfully hooked up through the Sonos app at the beginning of this process which, I assume, means Connect and Play 1 speakers will work together once I get receiver hooked up appropriately. Help! Thanks.
Best answer by pwt 25 November 2017, 16:06
It's a little hard to figure out what you've connected where without a picture or connectivity diagram. It's rather unlikely that the CONNECT is defective, so it's more likely to be a connection or configuration issue.
If you haven't already done so, I suggest you simplify the device connections just for now by leaving the receiver completely out of the picture and connecting the
CD Player analog outputs
to the
CONNECT Analog audio in
Inputs (identified in the picture below), using standard phono/RCA cables. Connect the mains cable and the Ethernet cable if applicable, and nothing else.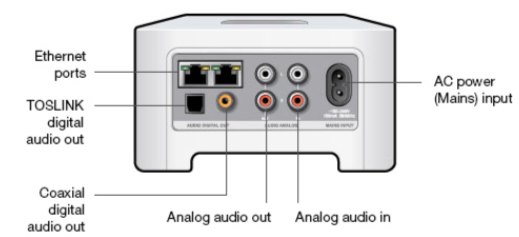 Then try it again.
View original