I get a "Discovery Failed" message when trying to discover devices through my new Sonos One with Alexa. I've followed the following steps:
1. Set up Sonos One and added voice control with Alexa. Alexa responds to commands and knows who I am
2. Set up the Alexa app, connected it to my account
3. Enabled the smart skill for Sonos
I tried both asking Alexas to discover devices ("Alexa, discover devices") and trying to locate devices through the Alexa app but I get a very quick "Discovery Failed" response (see image)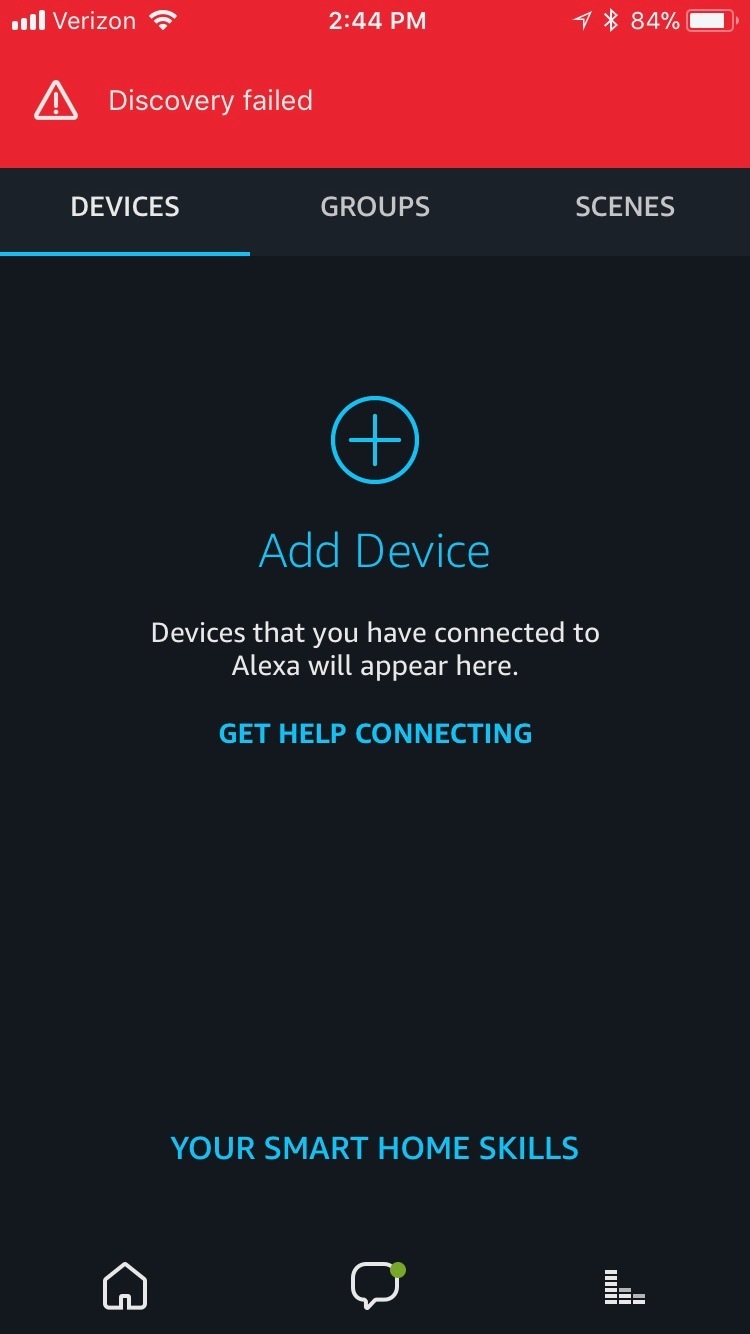 For what it's worth, I've also tried to connect my Nest thermostat by enabling that skill and connecting my account, but that device also cannot be discovered.
Also, I've tried to uninstall my apps and go through this entire process again. That also does not work. Please help.
Best answer by goldnotsilver 10 December 2017, 16:25
Solution for Mac ecosystems, and multiple Amazon accounts: After deleting ALL Sonos and Alexa apps previously installed on my handheld devices to ensure there was no conflict between devices, I used the Sonos app on my Mac (Download this from Sonos direct, it's not on the App Store.) I left Alexa app on my iPad.



1. I had a long forgotten Amazon account that Alexa was defaulting to, even though my Prime membership is on a new account with a different email different from what I first entered in Alexa. (Hubs had set up new account for Christmas shopping some years ago.) If you get the 'no devices found' error, check for old Amazon accounts. Pick the oldest one. I'm betting Amazon wants you to use that one. Amazon, this is critical information to share.



2. In a web browser, I changed my old Amazon account passwords. (If you don't have a useraccount and password book, buy one today. It'll save your bacon on a regular basis. Who can remember dozens of them? Not me.)



3. In Alexa I linked the old Amazon account. Also added Music Prime--it's fab.



4. In Alexa, Enabled Skills for Sonos and Nest thermostat.



5. Immediately my Sonos products and Nest showed on Alexa's Smart Home-->Devices tab. No need to discover devices.



6. Enabled sharing on the Sonos app on my iMac, with the help of Google. I'd write instructions for this, but breakfast's on.



Have been enjoying the superb Sonos sound since I wrangled the Amazon account confusion. We're wanting more Sonos One units for around the house. Will I buy more Alexa enabled stuff? Not just yet. Let's see the reviews on the Schlage and LED bulb reviews first.



For those of you who have helped, thank you.
View original