Building a new home, I have begun to run speaker wire throughout the main floor. I have bought three Sonos Amps, four Polk V80s, two Polk V85s (living room, kitchen/dining), and six Polk RC80is (patio, bath, bedroom). 12 speakers total, 4 speakers per amp/zone and one Play1... The blue circles below represent where I plan to install speakers (10 speakers out of 12). My question is where to place the last two speakers. I have four red circles as possibilities, a pair for the laundry/mud to tie into the master bedroom/bath zone. Or add another pair to the kitchen/dining zone (living room is it's own zone). The covered deck will tie into the remaining zone I don't choose.
My main concern is not having enough speakers in the kitchen/dining area with just the two in-ceilings. I could throw the Play1 on the kitchen counter to add to it if needed. We will spend a lot of time in the dining/kitchen and obviously not so much in the mud/laundry, so I am leaning adding the two extra speakers there. Is four speakers in that area too much? Is two speakers not enough?
Any help would be appreciated. I plan to run speaker wire to all rooms for future speakers.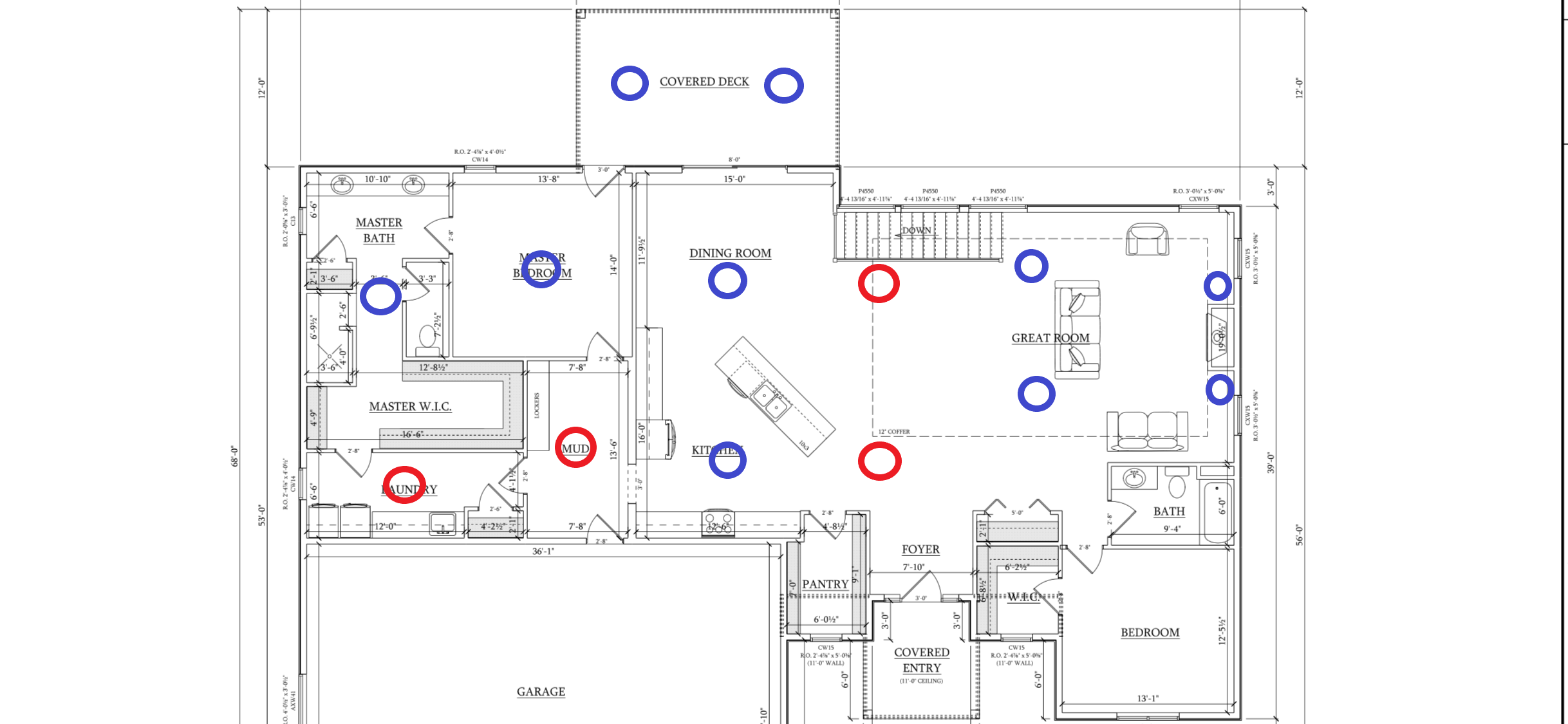 Best answer by AjTrek1 14 August 2019, 22:43
Hi lazyrooster
Congratulations on the new home!
I'm going to be perfectly honest and say that if installing your speakers is a DiY project you'd probably be better served by engaging a professional installer. Be that as it may...IMHO you have the following zones that could be powered by the three (3) Sonos Amps and speakers you currently own:


Master Bedroom x 2 speakers with Sonos Amp/Bath x Play 1

Dining Room/Kitchen x 4 speakers with Sonos Amp

Covered Deck x 2 speakers with Sonos Amp

The Great Room I assume you want to use two speakers as surround over the seating area and two speakers up front (in –wall) as mains in a HT setup. That would require two (2) additional Sonos amps
.
The alternate arrangement solution would be to use the in-wall speakers up front and two Sonos speakers on stands (Play 1 x 2 or Sonos One x 2 or Play 5 x 2) as surrounds. That would only require the purchase of one (1) additional Sonos Amp. You would return two of the 12 speakers.
My ultimate advice as I mentioned at the beginning is to engage a professional installer. There's a possibility you might be able to purchase a low-end AVR and utilize a Sonos Connect in conjunction with Sonos speakers to achieve whole-house selectable sound.
Did you consider
Sonos Architectural Speakers
which integrate quite well with the Sonos Amp and provide other unique features...see them
here
.
Hopefully, someone else may chime in with a different perspective. Best wishes to get everything sorted out.
Cheers!
View original