Hello everyone,
I am the owner of a 65-inch Samsung RU8000 (2019 edition). I would like to buy a Sonos Beam (Gen 2) to experience a better audio and the Dolby Atmos experience.
The soundbar will be connected through HDMI ARC.
Before buying, I would like to understand:
1) The compatibility between my TV and the soundbar: are they fully compatible? Will the soundbar turn on automatically when I turn o the tv? Can I control the soundbar using the same TV remote?

2) What are the limitations of my TV in audio terms. For this purpose, I attach you a picture found in this forum about the audio characteristics of my TV. Could you please help me to better understand what can I get from the combination of RU8000 with Sonos Beam (Gen 2)?
As far I have understood, I can get dolby atmos only from Netflix and Prime. But what will be the "experience" with other sources (for instance, for normal TV or by using a Bluray external source)? Will the soundabar work with them?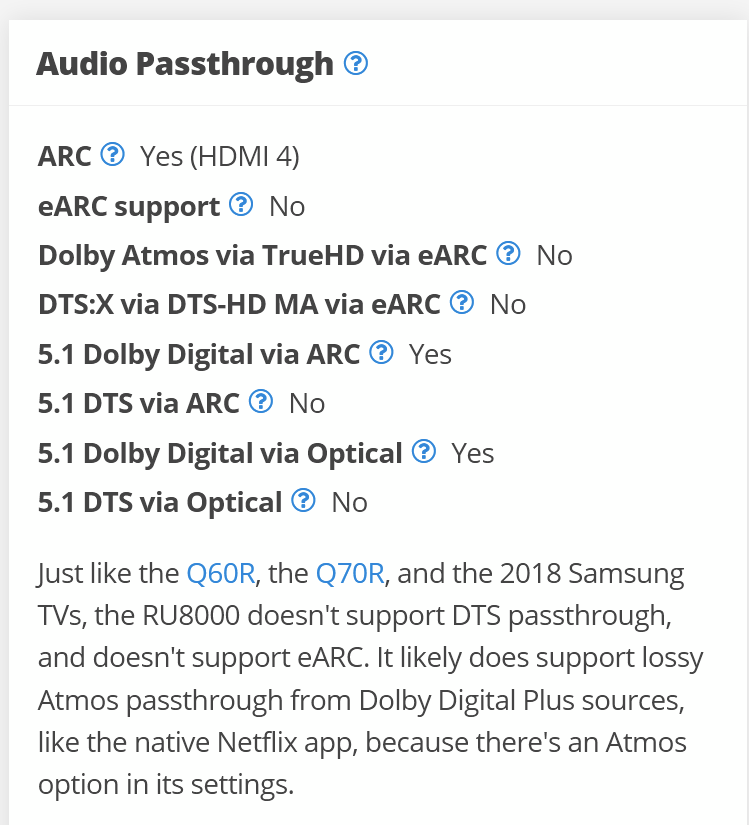 Thank you very much for any help you can provide me.
David
Best answer by GuitarSuperstar 3 November 2022, 15:01
View original