Hi All,
New to the forum, so nice to meet you all!
We just finished some construction works to our house and I would like to get some Sonos stuff in the new kitchen, living area and outdoors.
I asked my electrician to foresee audio cable in all zones as we were going to use in-ceiling speakers.
He did this, but now that all works are finished, I noticed, he only gave me 1 'end point' per zone, meaning he has foreseen wires from speaker 1 to speaker 2 to speaker 3 to speaker 4 in zone 1. Did the same in zone 2 for the 2 speakers over there and did the same in zone 3 for the 2 outdoor speakers.
This makes think a bit on how my ideal setup could work. Initially I was thinking to buy 3 connect amp devices to create the 3 zones, but it appears I don't have a 'left' and 'right' per zone as foreseen on the connect amp, so am I wondering if I would really need 3 connect amp's or if that setup even won't work at all?
Here is a picture showing how the setup is currently: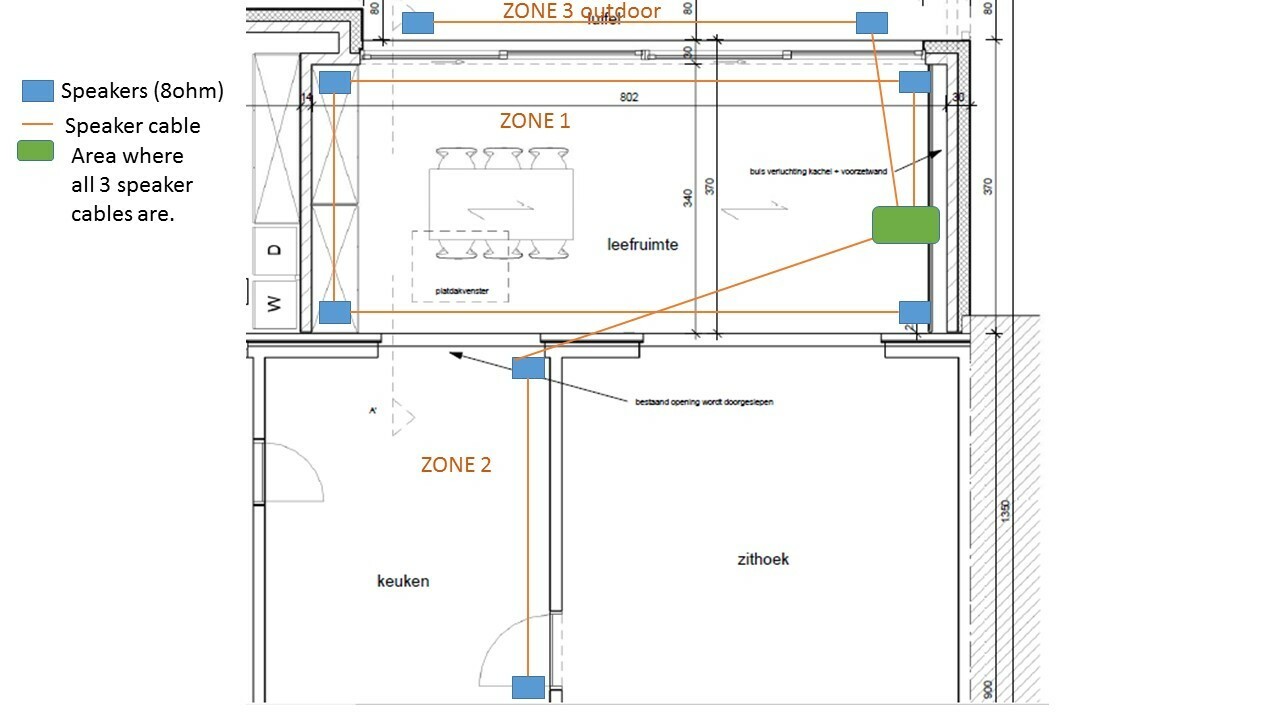 Zone 1 and 2 are optional and could be 1 big zone to save costs or if this is needed for my setup. As zone 3 is outdoors I would like to make sure that one is dedicated.
I'm also open to buy an additional device to switch off zones (not sure what the name is in English)
Looking forward to hear your ideas!
Best answer by Lucid AV 11 December 2017, 16:50
Yes. Apologies mixing up Zone 1 and Zone 2. Small phone display. Ha ha.

The Connect Amp will run okay at 4 Ohm per channel ( see my first reply to you), so wiring two 8 Ohm speakers in parallel per channel is fine.

Think now about the way stereo sound will be spread over the area of Zone 1. In such a large room if you wire right channel to the two right hand speakers and left to the two left hand speakers (near window?) then someone sitting at the window end of the dining table hears only left sound.

Better plan is to mix sound Left and Right at each end of room. So, clockwise starting top right Left, then Rght, then Left, then Right.

It doesn't matter where a person sits, they always hear some left and some right sound.
View original