Hi,
My Play:5 keeps getting the error message 'Unable to connect to "Living Room"'.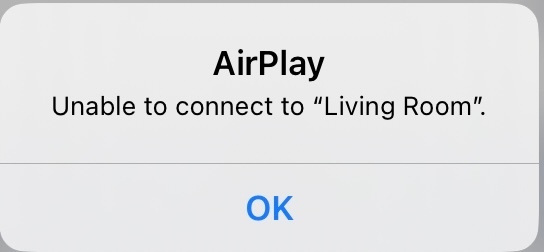 I have:
Restarted all devices and tried to AirPlay again
Switched-off Bluetooth and tried with BT on
Turned off Cellular Data on iPhone but same on non-cellular iPad 
I am not connected to any Bluetooth devices 
I am connected to the same WiFi
Reset my network settings on my iDevices
Reset Network Settings
Disabled 'Private Address' in the iOS Network connection 
Disabled WiFi calling
I am on latest iOS, Sonos app and speaker firmware/software
Tried both hard wire (CAT 5) and Wi-Fi 
Rebooted the router and all Sonos speakers
Disabled VPN software on the sending device
I have even reset the Play:5 to factory settings and reinstalled on system which does work and I can use AirPlay for a day or two then back to 'Unable to connect to "Living Room"'.
I can AirPlay to Apple HomePod no problem. I can use Spotify connect to Play:5 no problem. 
My submitted diagnostic confirmation number is 1692353740.
Any help gratefully received.