I am not getting anywhere with Sonos support and am wondering if someone here knows someone who can help. I've been a Sonos customer since 2007 (I had Controller 100s and ZonePlayers!) and have purchased hundreds of dollars worth of equipment over the years. This is unbelievably frustrating. Apologies for the length, but I want to lay out the entire story.
In March of this year I bought two Era 100s, one white and one black. A couple months ago, I started to notice that the grille on the white one had cracks. I'm pretty sure they were not there when I unboxed it: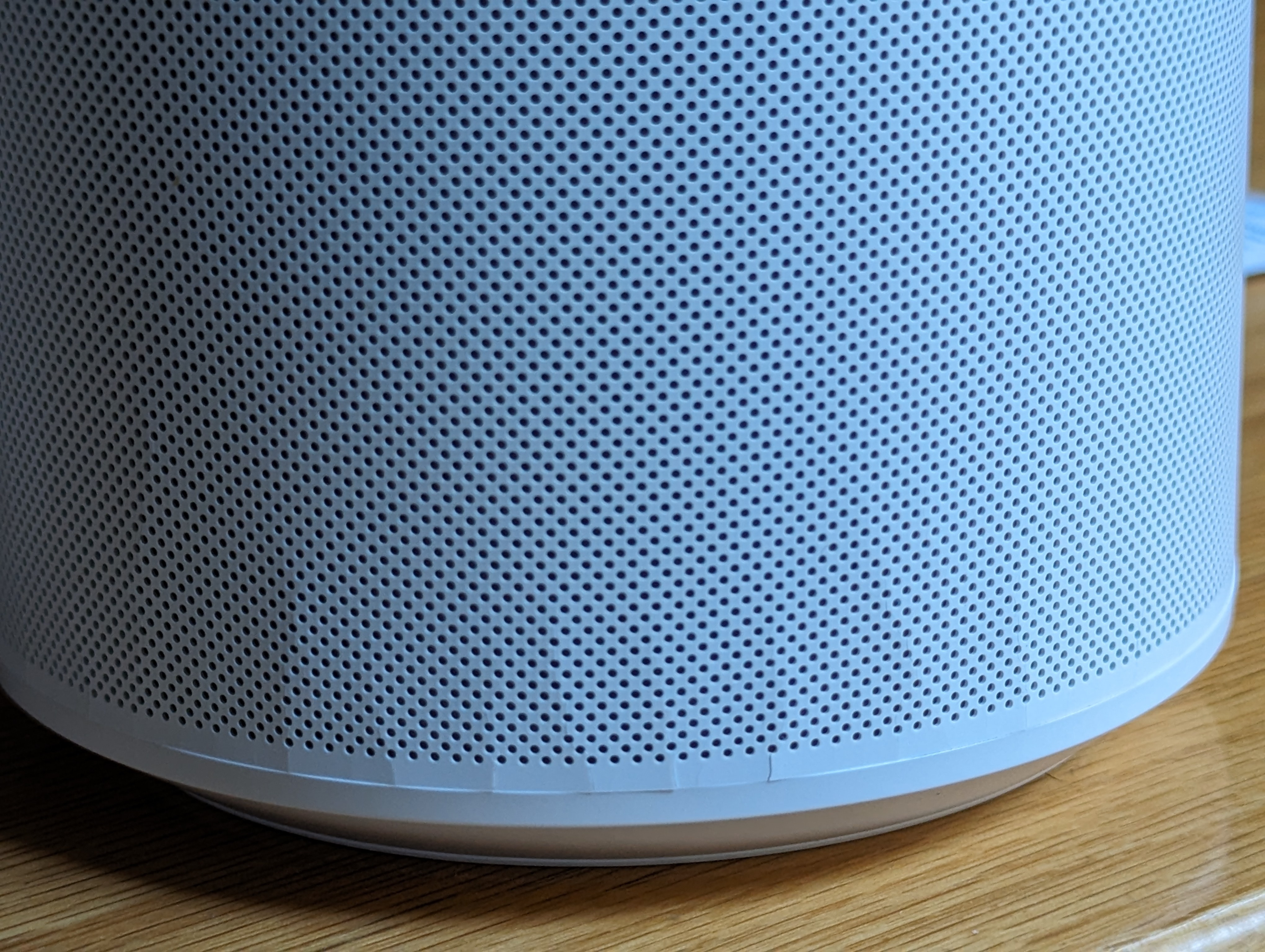 The black Era 100 did not show this issue. The speaker functioned fine, but it was very unsightly and these speakers are expensive, so I thought I should request a replacement under the warranty.
I did a support chat (ticket ********) in late September and was told I would be contacted via email. 
On September 26 I received an email that gave me RMA number RO-****** and a link to process my return, which I did.
The same day I received an email from Mateo E (case # ********) that requested photos of the issue. I replied back with the one above and several others. He replied thanking me for the clear images and said that the unit need to be replaced and that he needed my address. I provided it and he replied with a return form URL and info on standard vs advanced replacement. I chose standard.
The same day I received an email with info on packaging my return. It stated that a shipping label would be sent separately.
The shipping label did not arrive and I did another support chat (ticket ********) to request it.
On September 29, the shipping label email arrived. The address was:
SONOS C/O IVY TECHNOLOGY
11201 ELECTRON DR.
LOUISVILLE, KY 40299
The FedEx tracking number was **** **** ****.
I packaged the speaker and included the RMA number inside the box for good measure. I dropped it off at FedEx. It was delivered on October 4.
I never received the expected acknowledgement email from Sonos and after a couple weeks, did a support chat (ticket ********) to inquire about the status. I was told an inquiry would be made with the returns team and that I should expect to get an email in 24-48 hours.
No email arrived. On October 25 I called support, and after getting the same assurances I had gotten in the chat, I asked to be escalated. I then spoke with Natalie A, Customer Experience - Level 2 (case ********). She said she would look into it and sent me an email that I could reply to in order to contact her directly. 
Since then I have been corresponding with her and there has been no sign of progress.
On October 26, she asked, "I checked with the returns department, and like me, they don't have a confirmation that the unit was received by Sonos, do you have the tracking number?" I replied with tracking number and pointed out that I had provided this information multiple times in the past and was getting pretty frustrated. I asked where this is going and when will Sonos honor the RMA and send a replacement speaker.
On October 27, she replied, "Thanks for letting me know about it, I know this has being frustrated for you, I'm doing my best to offer you a solution. Once I have more information, I'll let you know."
Today, on October 31, I sent an email requesting status, and she did not reply.
Granted, perhaps she was busy today, but as of tomorrow it will have been 4 weeks since my speaker was delivered to Sonos. It seems clear to me that they lost it when it was in their possession, and are responsible for this. I would like my RMA to be honored and have a replacement white Era 100 shipped to me. 
I'm hoping that someone here knows someone or has a contact higher than level 2, and can kindly direct me to someone who can help. Thanks for reading this long tale of woe.
Moderator edit: removed identifying information