Hello! Did some Googling and reviewed quite some topics on here/Reddit/Unifi Community but couldn't find anyone with the same symptom.
I just recently bought some Ubiquity gear and got the majority of my devices on the new network. One of the things that I wanted to achieve was to wire all my devices where I can. This resulted in my Sonos setup in the Living Room beeing almost completely wired, except for the Sub. The setup is a "classic" Sonos surround setup with a Playbar and two Play:1's (and the Sub).

The surround setup has went to a complete factory reset due to the fact that the remote of my new TV was not able to bind properly. This is still buggy but that seems to be another challenge I guess.

Today, all of a sudden, a new device came up in my Unifi controller on the same port where my Playbar is connected to (and I don't use the second port on the Playbar for "daisy chaining"). While I was investigating this, 3 other devices (as in; unique MAC adresses) also showed up within the controller and are beeing identified as Sonos products as well.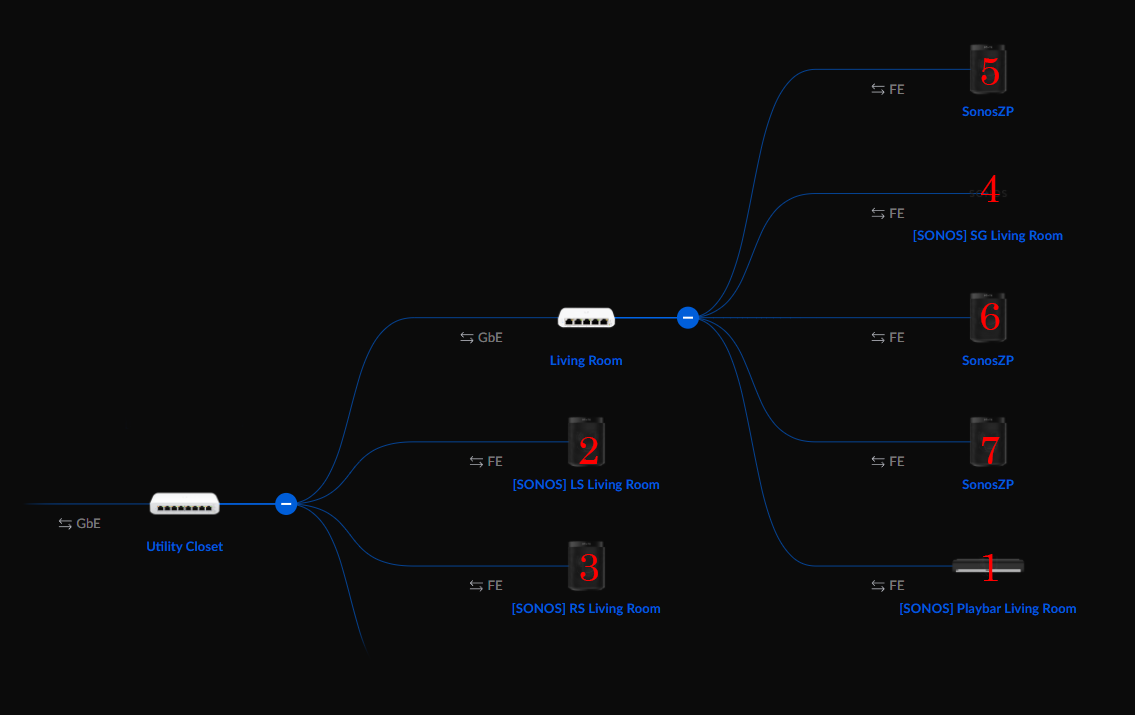 1 = Playbar / 2 = Play:1 / 3 = Play:1 / 4 = First additional device showed up (I renamed this one myself, it also advertised as SonosZP) / 5-6-7 = newest devices. Within the controller (not showed in the printscreen above) we can see that devices 1-4-5-6-7 are all connected to the same port on the Living Room switch.
I want to setup firewall rules to control the setup from another VLAN (all Sonos devices are on a IOT LAN and my phone will be in the Client LAN), and I would like these rules to be specific to the IP's I assigned to the Sonos devices. I could serve these "ghost" devices static IP's based on MAC adress and put these IP's in the Sonos group which will do but that's obvisouly a fix and is not mittigating the extra devices.
Does anyone has any idea what these additional devices are and if they are to be expected; how many can I expect.