Have circumventing a problem with SONOS app (for years) trying to get to my iTunes Media Music Library on my media server.  Never was able to get it to connect and eventually just gave access to a local backup on that I was maintaining on line.   That is no longer feasible, can't keep the backup online any more.
So I was trying to get the SONOS App to access the remote file share directly.  Looked at prior fourm errors and saw that SMB V1 need to be enabled (not my favorite) and did that on the client (Plex01) and the Target (NAS-pc).  Both are Windows 10 Home machines, and up to date.
I can clearly access the Server's files and play the media from the mapped drive (Z:) on  plex01
Yet when I try to add the Z: mapped folder to SONOS app on the Plex01 machine, I get the below error.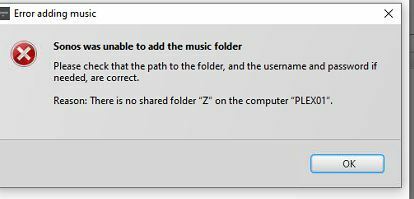 never saw am issue with a folder on mapped drive on the host PC… there are no options to share a mapped folder. All accounts on this machine have FULL CONTROL to the mapped drive.
The Media Server (NAS-pc) is running Drive Bender to provide a data pool which contains the iTunes Music drive @ \\NAS-pc\O Drive\iTunes\iTunes Libraries\iTunes Media\Music
** used to be a place to open a tech support ticket , last thing I want is to wait in a phone or chat queue and have to do real time PD **