There have been questions about the high frequency response of the Sonos Amp. User
hodgeal
posted a very interesting plot showing the frequency response of the Sonos Amp using the software REW. It didn't show excessive high frequencies in that single test.
I had the opportunity to compare the Sonos amp to my Peachtree amp using the same software (which is very useful and easy to use - thanks hodgeal), and this provides a comparative test of the Sonos Amp frequency response.
The Peachtree Nova 125 SE amp is well-respected in the audio community. It is a class D digital amp, same as the Sonos Amp, but as far as I can tell uses different chips. The test uses Duntech Marquis speakers and a Studio Projects C1 microphone. The mic is setup on-axis at a distance of 120cm, which is pretty standard. But none of the details should matter because this is a comparison under identical conditions - I simply swapped amps and repeated the test.
And the results?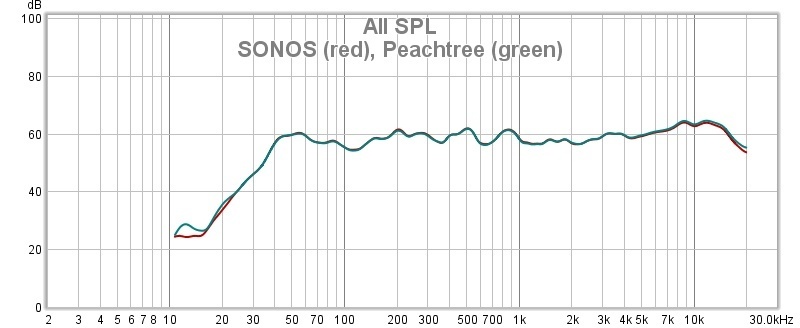 As you can see, the amps are almost identical. Ignore low frequencies - they vary from test to test even with the same amp below about 30Hz. At high frequencies, above about 4kHz, the Peachtree gets gradually brighter, ending up being about 1.5dB louder at 20kHz. This would be imperceptible to pretty much everyone.
Note that there is a slight increase in high frequencies above about 7kHz for both amps, so this could be the speakers. However, I think this is due to the frequency response of the microphone - the specifications show a similar slight increase.
Cheers, Peter.