I would like to make the following request for the Windows Application. Would it be possible to have an additional Sort and Filtering options when Searching through Albums
e.g.
1) Search for Pearl Jam (Artist)
2) Selecting Pearl Jam lists all their Albums.
Note: Albums appear to be sorted by release date.

Sort Request:
Ability to Sort Album by Name / Release Date.
Would also be nice when one could select the default sorting in settings

Filter Request:
Ability to filter on Album Type (Album / Single / All )
Note. I Think have also Seen 'EP' as under somewhere.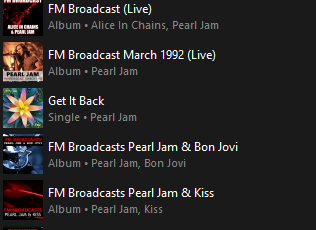 Andrew

Additional Information:
Screenshot is from the Windows App Searching though YouTube Onlne Library.