Newbie here. 
I'm building out a covered porch right now with the "dream setup". Outdoor fireplace with TV & ARC above it, and am planning on using AMP + Ceiling Speakers as rears for that system. 
Everything is getting framed and built out right now, and I'm trying to figure out what wiring I need run. 
Below is a rudimentary diagram of my plan.. but here's the crutch of my question: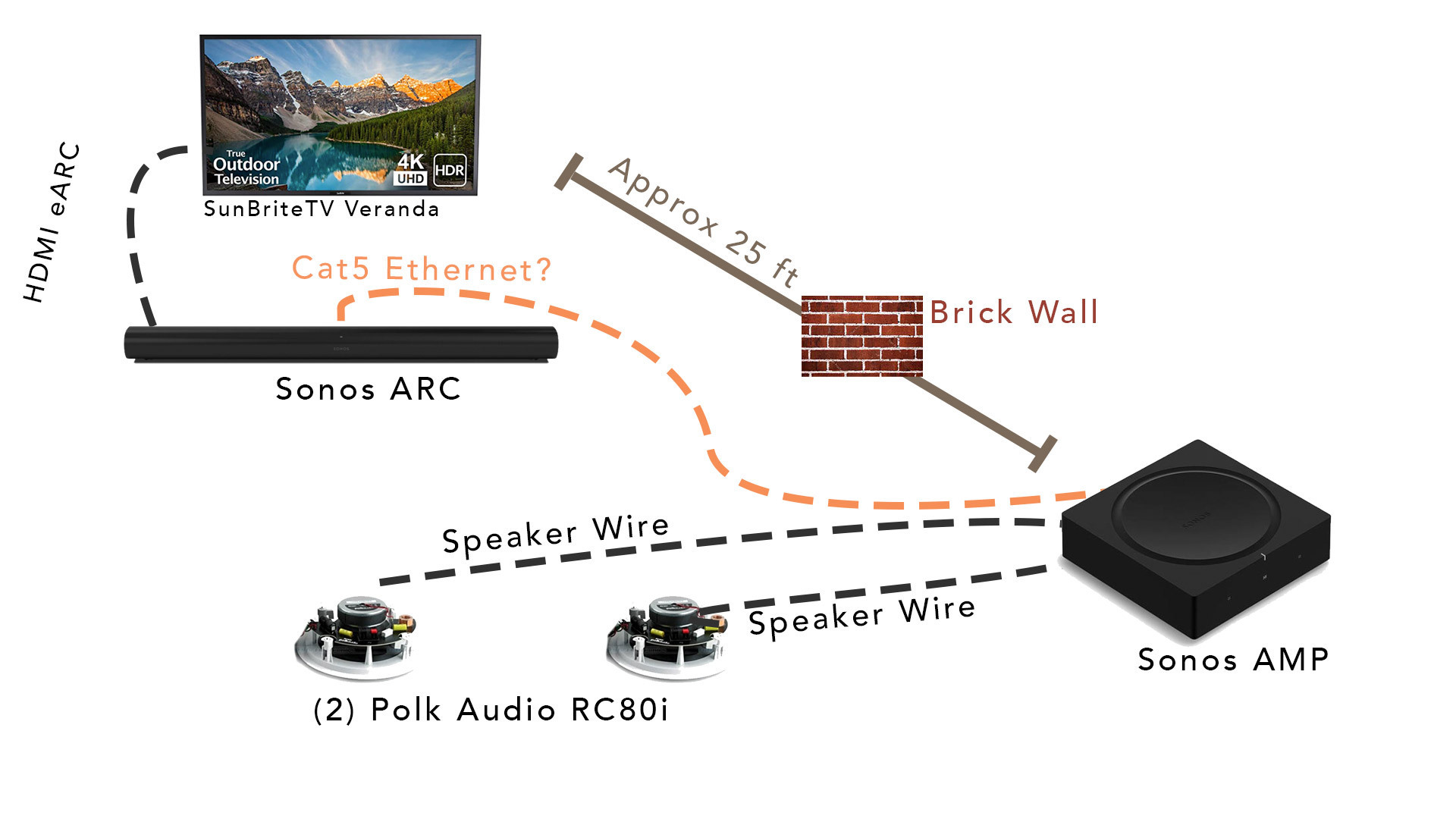 ARC will be hooked into TV's eARC HDMI port. 
I'm hoping that ARC can wirelessly bond to an AMP so that those are a single Sonos Room together (and the AMP ceiling speakers set as rears), but my concern is my planned location for the AMP is in a utility closet that is about 25 ft away from this porch (through walls), AND that's through an exterior brick wall. 
Unfortunately the AMP is backordered until late August and construction will be wrapped up by then, so I can't test all this while all the framing is still exposed. 

Should I run Cat5 (or another cable?) from the TV / ARC location to the utility closet where the AMP will be? The only other location for the AMP that would be closer to the ARC would be an unfinished garage space underneath the porch, which I would not prefer. 
Best answer by melvimbe 25 May 2021, 20:37
The amp and arc can be bonded as you thought.  The wireless connection will be over 5G, which I wouldn't count on for use in your situation.  I would go with a wired connection with your anticipated layout.
Please note though that the Arc (and Amp) are not rated for outdoor use.  Obviously, you can give it try and see how it works out.  I personally wouldn't do it, and just use an Amp for the front speakers, as well as the back if I want surround sound.  It's not the dream sound you're looking for, but not sure you're going to be able to get that outdoors with an Arc anyway.
  For the amp, there are 3rd party outdoor boxes that others have placed the amp in to protect it outdoors without issue.  Comes with power source, fan, etc.  Can't remember the name of them off hand.
A second option for the amp is to wall mount it behind the TV.  Maybe this won't work well if your TV is mounted closed to the wall, or is one of those pull down numbers.  And the box I mentioned eariler wouldn't fit behind a TV.
View original