I recently added a NAS to my network running openmediavault. I copied my music library to it and created an SMB/CIFS share for it. The local URL for the share is \\OPENMEDIAVAULT\Music. I tried to open up all possible permissions on it, from the file system to the share itself, but every time I try to add the share in Manage Music Library on the Windows Sonos controller, I get the following message:
Sonos was unable to add the music folder
Please check that the path to the folder, and the username and password is needed, are correct.
Reason: Access to the shared folder "\\OPENMEDIAVAULT\Music" is denied.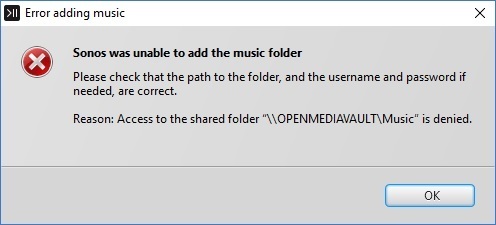 I'm running OMV version 4.1.19-1 (Arrakis)
The kernel is Linux 4.19.0-0.bpo.2-amd64
Has anyone gotten Sonos to work with an openmediavault share in this way?
Thanks in advance!