Hi all,
I've attached a network diagram here. I'm experiencing some super odd network issues that I can't pinpoint. I've been reading about STP, port blockling, and other shenanigans. Completely speculative so far.
I had an extreme case the other day where my throughput dropped to 10Mbps to the Internet. I could patch my computer at my desk directly in to the ISP modem and immediately get 1Gbps (~920Mbps on Speedtest, 3 different sources). When I plugged it all back in to the network with the router and switches in front (no resets), 10Mbps. After switch resets I could iperf over switches and get ~920Mbps. Internet connectivity doesn't get up that high but I definitely am up that way. That is also something odd I'm troubleshooting with Ubiquiti at the moment.
Currently my 8 port switch is listing the PlayBar at 100Mbps blocked...
Curious if there are optimal or recommended settings for an Ubiquiti UniFi based network? Am I doing anything obviously wrong here?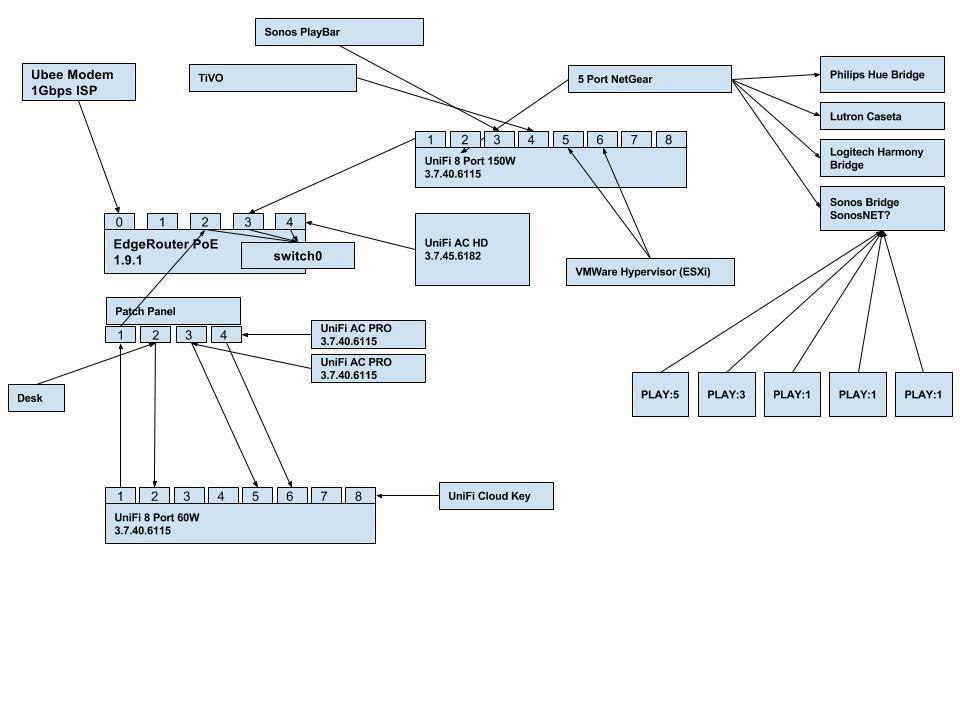 Best answer by ratty 14 March 2017, 14:38
Why would SonosNet bridging wirelessly limit the bandwidth?
Sonos is compatible with Classic STP paths costs. Where RSTP costs are used these will exceed SonosNet wireless path costs, resulting in a wireless path being preferred over wired. This is mentioned in posts to the thread I referred you to. A potential workaround is to configure all relevant switches to use Classic STP.
Where a wireless path over SonosNet gets preferred, it will clearly throttle bandwidth. The best throughput I've seen from a single SonosNet wireless hop is 12-13Mbps.
Can I just disable wireless on the Playbar and force Ethernet, would that stop whatever is happening?
You could, though it's not a Sonos approved practice so they're reluctant for directions to be posted here. Google would locate the requisite URLs.
View original