Hello All,
First a bit of a rant, if you will indulge me.
I usually keep my Play5 in the office but when we have a party, I take the Play5 out to the Patio and set it up. I used to do this all the time and it would set up seamlessly. I am not exactly sure of the update but about 2 or 3 updates ago, I started having issues when I took the Play5 out to the Patio. I started getting an error which said, "connect this product to my router with an Ethernet cable". I tried connecting the Play5 via an ethernet cable to the router but that never worked. I then tried powering off and powering back up the Bridge and that would not work. Finally, I tried resetting the Bridge and after a few times, the Bridge would work and I could then connect another product which is the Play5. That is a lot of work for something that used to take 5 minutes. 
Nothing has changed in my network. I have Uverse with AT&T. I have a Play5 Gen1 and a Bridge. According to my specs, the Bridge is Version 11.2. I am running the S1 version of the Sonos Application. I have tried the "Find Missing Product" option in settings and the App sees my bridge but I get the same error about connecting directly to the router.
I don't get it. As I said all this started about 2 or 3 updates ago, I started to have issues.
Here is my home network: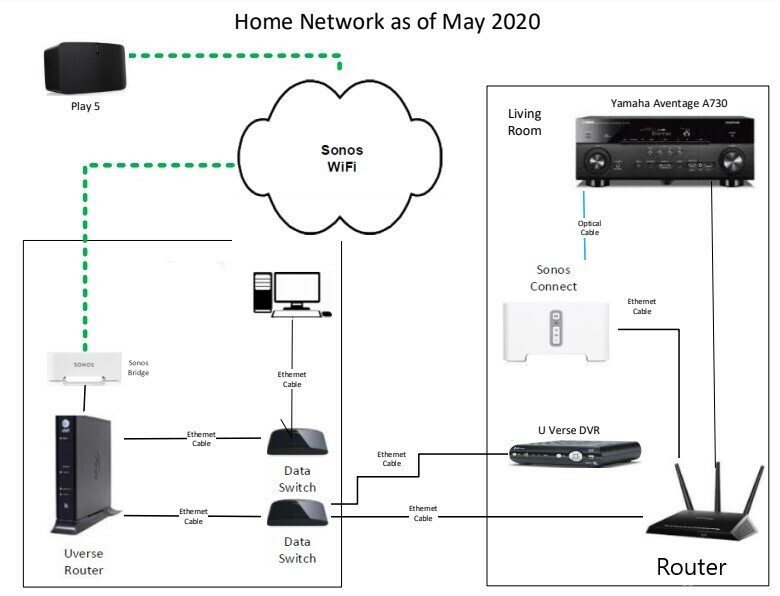 Thanks, WP
Best answer by Bil Patterson 1 July 2020, 21:33
Well… I called Tech Support… What an idea!
They had me turn the Wi Fi back on for my Connect and I could add my Play5. They also told me to either leave the Ethernet Cable connected to the Connect and also run WiFi from the Connect or keep the Bridge and connect it to my router with an ethernet cable. 
I am keeping the bridge connected via an Ethernet cable for now.
Anyway, its working again.
View original