Hello!
I have tried adding my speakers to my Smartthings system dozens of times and the device is not found.
Is it necessary to install some SmartApp before doing the search of the speakers?
Best answer by HamOperator 27 January 2019, 00:32
I finally got my Smartthings and Sonos working together - after fiddling with it for an entire day (a very long day, btw), Hope my posting below helps guide others who might be struggling to get their Smartthings integration working.
My system:
* Smartthings hub (IM6001-V3P01)
* Smartthings Classic app on Apple iPad
* 1 Sonos Boost
* 1 Playbar (Living Room)
* 2 Play:5s (Living Room)
* 1 Sub (Living Room)
* 1 Play:5 (Kitchen)
* 1 Sub (Kitchen)
* 1 Playbase (Bedroom)
* 2 Play:5s (Bedroom)
* 1 Sub (Bedroom)
* 2 Play:1 (Office)
* 1 Play:5 (Office)
* Sonos Controller (ver 9.3) on Windows 10
Problem:
Smartthings / Samsung Connect (latest ver) would not recognize my Sonos system.
How I resolved:
1.) I deleted the Samsung Connect app and then installed Smartthings Classic. Only Smarthings Classic would recognize my Sonos speakers.
2.) In my wireless router settings, (NetGear Nighthawk AC1900), I added the address of each Sonos component to the address 'reservation' list. This allows network to handle each Sonos speaker as if it has a static IP (kind of).
3.) IP address for each player (speaker) can be found in the controller app: Help> About my Sonos System...
4.) Added each Sonos speaker in Smartthings Classic: My Home > Add a Thing.
5.) After a minute or two, Smartthings Classic allowed the ST hub to discover all 13 players.
6.) Smartthings Groovy IDE allows one to see what's happening:
URL: https://graph.api.smartthings.com/
7.) See attached image of router settings.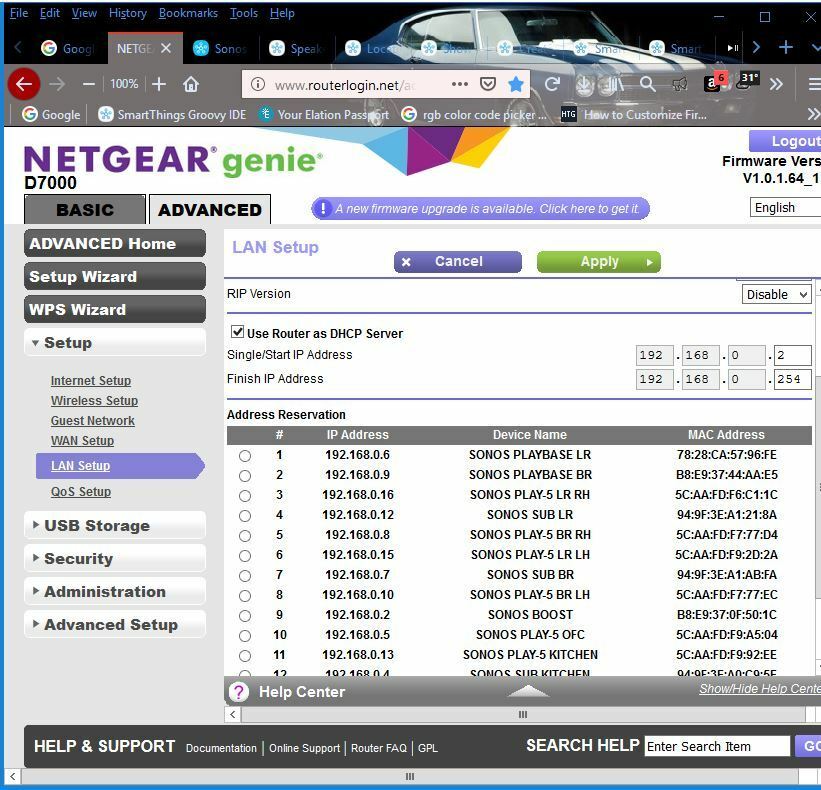 View original