So I bought a pair of play 3s for my living room, which were nice. Then I added a sub, which was amazing.
Now my (non Sonos) soundbar has gone pop, so it seems to make sense to buy a Sonos soundbar.
A picture speaks a thousand words, so here's where the current stereo pair and sub live, along with where I'd put the soundbar: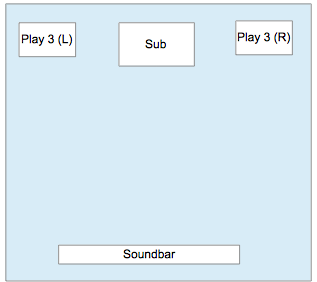 Question time: how best will I set this up?
I'm quite happy with my current music listening setup, but would like to benefit from a bit of surround sound from the play 3s, and, of course, some boom from the sub woofer.
How will this affect my current 'living room' listening setup?
Will all music played to living room now come out of the soundbar as well as the current pair+sub, or will the pair+sub continue as they currently do, but be utilised when the soundbar is on.
In either case, can the surround sound be turned off and on? I might not want it on when the kids are watching cbeebies, but I might want it on when the rugby is on, or we're watching the latest BluRay.
Thanks for your help.