Hi folks
So I have an S1 system and in general it's all still working fine (for now).
The only weirdness at the moment is with Apple Music.
When I go to browse Albums the alphabet dividers are in the wrong place in both the iOS app and the Mac desktop app. This isn't replicated in the Music app. In general the sync between Sonos and Apple Music seems to be up to date (eg newly created playlists and newly added albums are appearing in Sonos almost immediately after the Music library is updated in the cloud).
Up at the top of the alphabet this is not such a big deal, there are a couple of albums beginning with "B" in the "A" section'.

But by the end of the alphabet, it's way out of whack, and the "S" section begins halfway through the "T"s and runs to the end of the alphabet and numbers.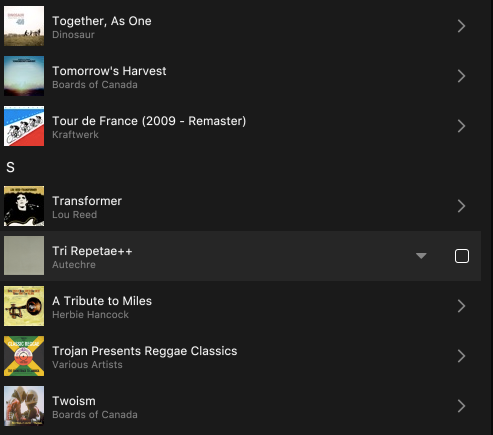 Is there anything I can do to get this database fixed?
Thanks!
Running desktop S1 v 11.2.2 on OS Catalina 10.15.6 and iOS S1 v11.2.2 on iOS 13.6. 
Best answer by controlav 14 September 2020, 15:12
This is a bug in Apple's SMAPI service. Evidently something in the list has confused the counter used to generate the scroll indices. Apple need to fix their version of this API: https://developer.sonos.com/reference/sonos-music-api/getscrollindices/ but its unlikely as Apple don't really care too much about Sonos support (cf. the long-standing Album list truncation problem).
View original