Apologies if this has been asked previously. I have looked with no help!
I have a play 1, play 5 and sound bar.
While at my parents-in-law's home I have attempted to setup my play5.
Previously worked ok, until i moved my iTunes library onto an external hard drive to free up space on my iMac.
I have attempted to connect my iTunes library but receive the following message: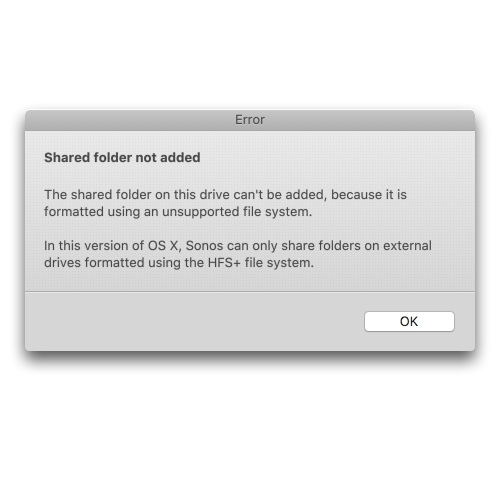 It seems my external hard drive is formatted to windows NTS.
I am running an iMac on OS 10.13 (High Sierra). My sonos apps are updated.
Any ideas on how I can access my music library without having to put it back on my hard drive?
I also have a backup of this on my Airport Time Capsule as a hard drive backup.
I have tried to access this through the Sonos app as well, but as it is a "network", I'm not totally sure of the pathway I am supposed to begin typing into the settings.
Hoping someone can help me please.
Many thanks,
gerrytu73
Best answer by Belly M 9 September 2018, 10:41
Simplest solution would be to back up the external HDD, format it to HFS+ and then copy the data back.

The backup on the TC, was this created by Time Machine as you won't be able to access it. You need a straight copy of your music, Sonos help file with path info...

https://support.sonos.com/s/article/78?language=en_US
View original