Hi All,
I'm trying to setup a new home. I'm running into some trouble with the Connect:Amp which used to work fine not being able to play music from my device's itunes. (I understand long story, Sonos blames Apple for the lack of RAM in the Connect:Amp that now can't do Airplay2 blah blah blah). Not the point.
I'm just trying to get setup. I like to listen to music from
my iPhone 11 Pro
my Record player
TVs
I've created an image to show the general layout, but looking for suggestions on how to fix the setup to be the most versatile. Kitchen+OpenSpace + MainRoom are all open layout, no obstructive walls, but the Sunroom is separated by walls.
Basement, 1st Floor, and 2nd Floor: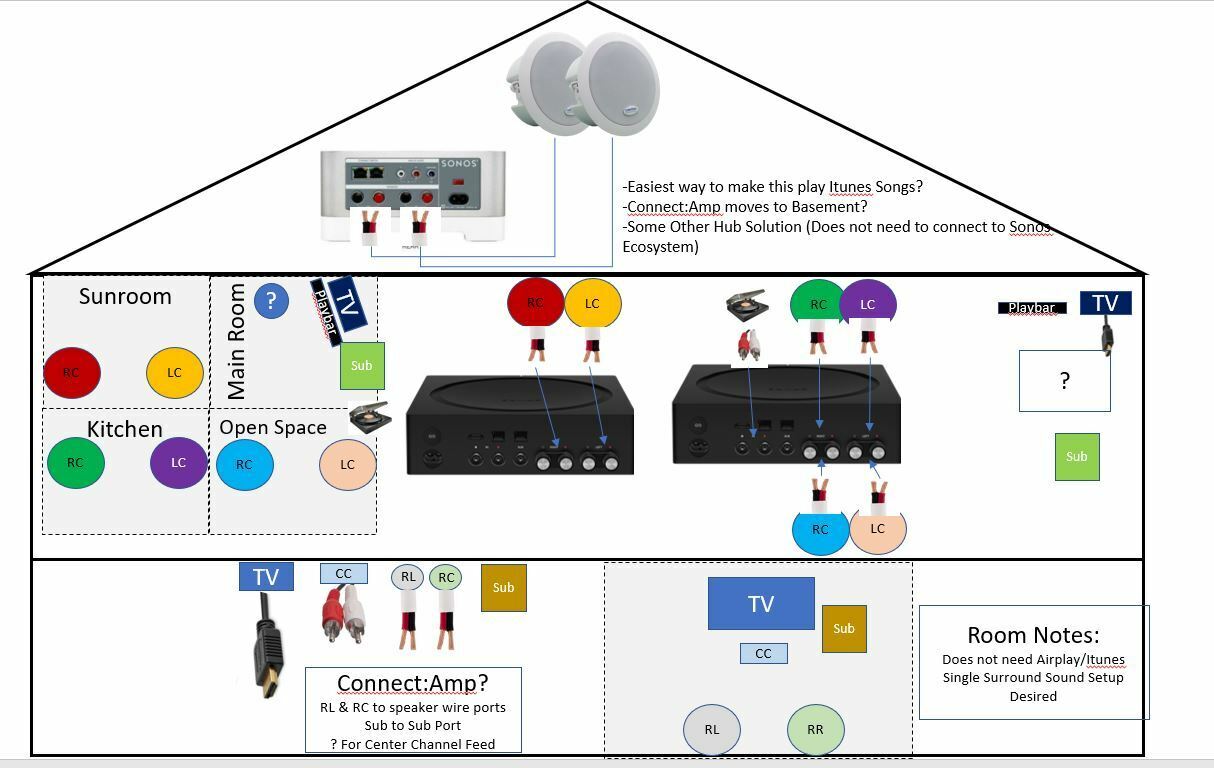 Main questions:
Any ideas on how to allow record play to play in the Kitchen/OpenSpace AND the Sunroom (Either same time or switch back and forth - ideally both options)?
Any way to make the "Open Space" speakers act as one of the Rear Channel Speakers for a surround sound with the main TV? (And what needs to be added for the other rear?)        2A: Can I just use the Open Space Speakers + Kitchen Speakers (all wired together) to act as the rears and then get the Sub and a Sonos Playbar to act as the front of that surround sound setup? (How?)
Thoughts on setup for the basement TV?
Is there a way to drive sound to separate S2 "Rooms" from the same device at the same time (but different music?) ideally through airplay?
Any general ideas also welcomed.