Sonos One worked fine to begin with. After a couple of weeks it stopped recognizing my Spotify account. That was bad enough then yesterday Alexa was not even recognized. The app does not allow voice services at all. (See attached error messages)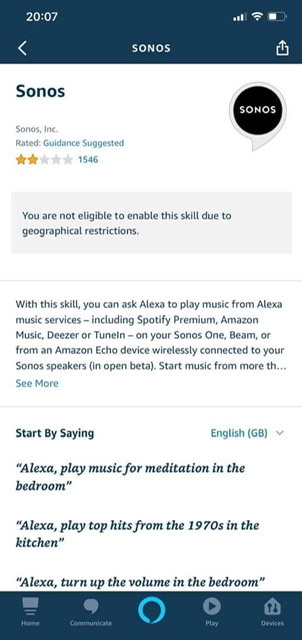 I live in Gibraltar, not sure if that is an issue.
Best answer by David C 12 February 2020, 20:05
@ianmartinengland 
Thank you for reaching out to the Sonos Community.
It seems like your country may not be supported by Alexa on Sonos. Here is a link to see what countries that are available to use Alexa. If it not listed then i can forward a feature request to the team for expanded support.
Spotify however should work in Gibraltar, just not using Alexa. I can look into that for you if you would like to submit a diagnostic and reply back with the number.
View original