I've run into a situation where a Connect AMP prefer a weak SonosNet connection over using wired Ethernet.
I have 4 permanently and 1 occasionally powered Sonos units:
a) Connect (wired Ethernet)
b) Play 5
c) Play 1
d) Connect AMP (wired Ethernet)
e) Connect (wired Ethernet, WiFi OFF, unit is occasionally powered)
Sonos Network Matrix (units a to e, left to right on the X-axis):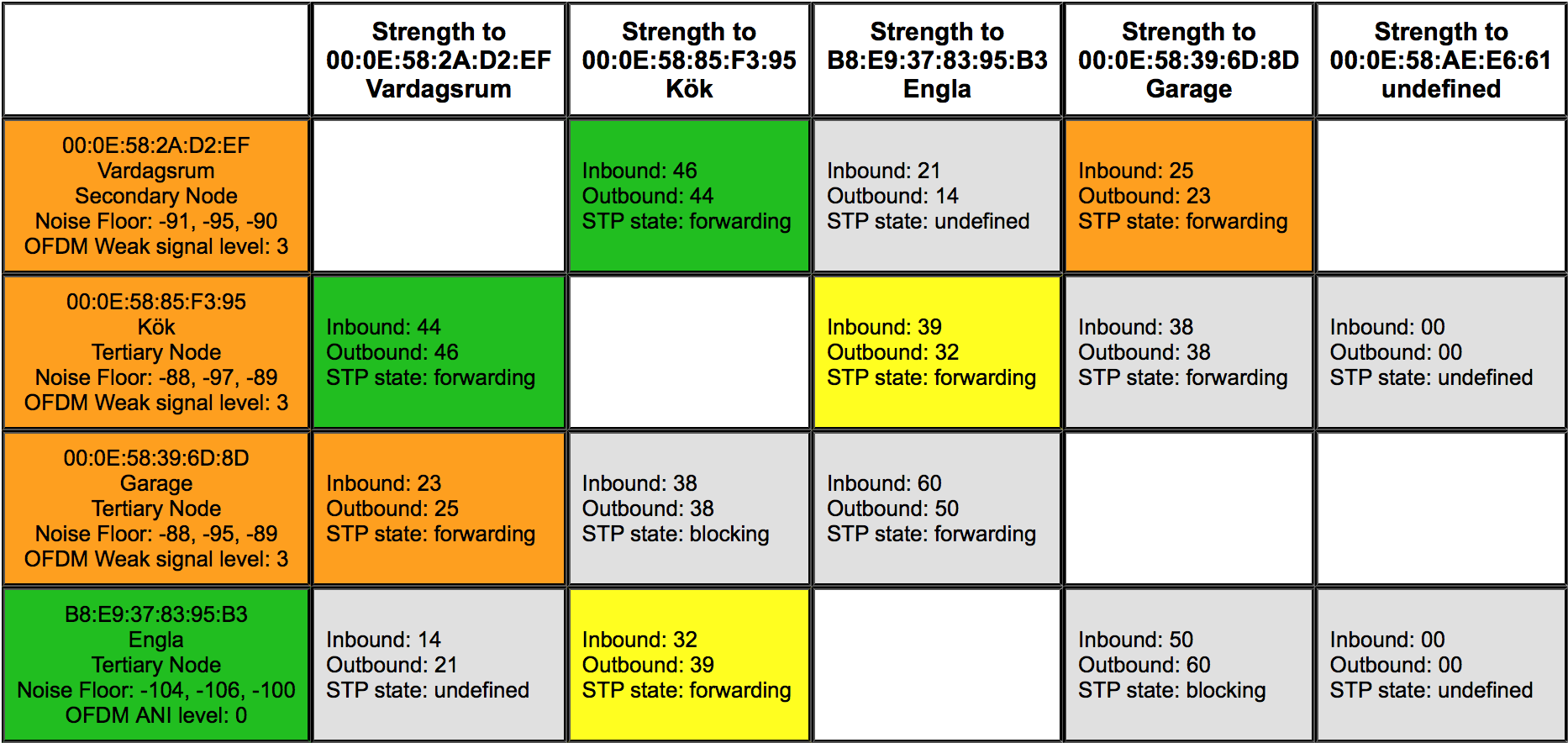 The SonosNet is "green" between unit a) and b). Unit c) has "yellow" connection with b). Initially when adding unit e) I had problems with network loops and found out that my root switch ate all RSTP BPDUs. Later I enabled RSTP in the root switch and the RSTP protocol started to work and prevent loops, but anyhow I chose to
deactivate
WiFi in unit e) since it has a wired connection and is located in the basement and surrounded by thick concrete walls.
Today I added unit d), but to my surprise it caused the switch port where it is connected to enter "Blocked" mode and instead chose an "Orange" SonosNet connection with unit a).
Why is unit d) preferring a weak SonosNet connection when it could use wired Ethernet to connect to unit a) and the others?
I had expected the "STP split" to occur between a-b and c-d
The wired Ethernet network consists of a number of UniFi switches with default RSTP settings active. I've read that Sonos uses an older set of path costs than modern switches do. Is that the reason why unit d) is ignoring a perfect wired connection and selecting a weak SonosNet connection?
Or is SonosNet unable to have more than one wired connection? I've read that others have succeeded - unfortunately, I'm not sure I can edit the path costs in my Unifi gear.
I could of course turn off WiFi in unit d) as I did with unit e), but unit c) has better connection with unit d) than any of the others and I suppose it could enjoy a bit better connection if it started to use the wired connection of d) to reach a) instead of jumping over b).